Estimated reading time: 5 minutes
A baked vegan breaded cauliflower recipe that's kid-friendly and a tasty appetizer, too. These cauliflower "wings" are dredged in a vegan batter and then coated with crushed crackers for a deliciously tasty vegan recipe that's nut-free, egg-free, gluten-free, vegan and a family favorite.
Cauliflower has been the rage for quite some time now, with good reason. The cruciferous vegetable is high in fiber and B vitamins, high in choline and other important nutrients. Cauliflower is a good low-carb, grain-free option that can be see in soups, grated to resemble rice, in pizza crust and even comes in flour form which can be used in baking. But today, we're leaving cauliflower in its natural form. This cauliflower recipe takes florets that are breaded which makes a deliciously addictive vegan appetizer.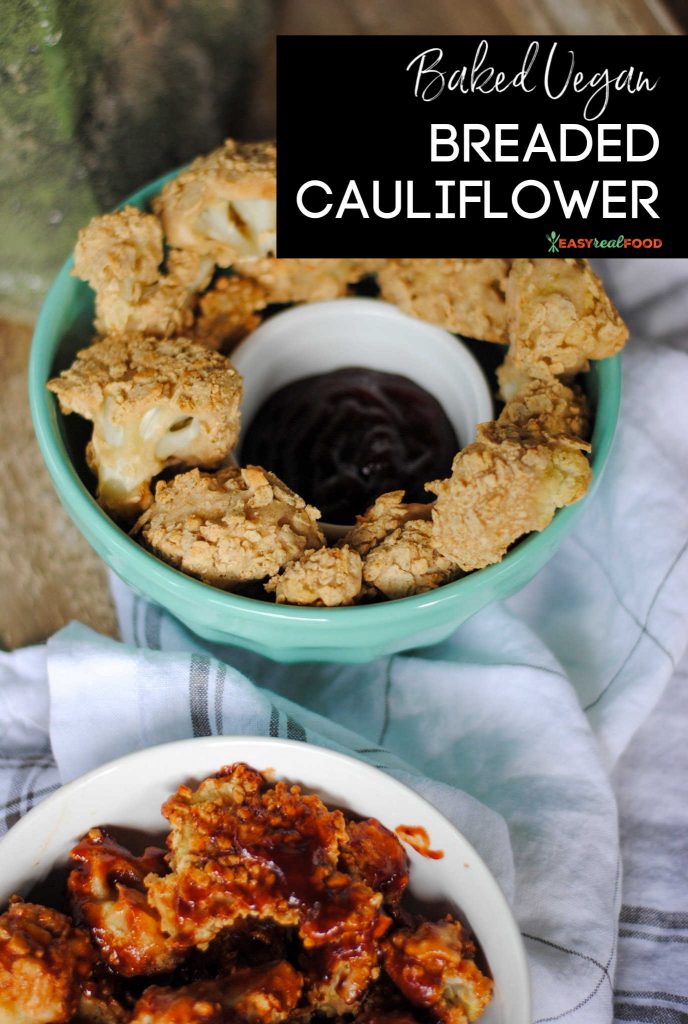 Baked Vegan Breaded Cauliflower
This is the perfect appetizer or side dish that is:
egg free
gluten free
grain free (use cassava flour or almond flour and grain-free crackers – directions below)
vegetarian
vegan
kid-friendly
DELICIOUS. My husband – a total carnivore – could NOT get enough of this. He liked it so much that I made another batch just for him on Father's Day!
A Vegan Cauliflower Recipe
Whether you are vegan or not, I'm fairly certain that you're going to love this recipe. Crispy breaded cauliflower made without the use of eggs or dairy is ideal for dipping in a variety of sauces. But not only is it vegan – it's so kid-friendly. For those parents who like to disguise vegetables, breaded cauliflower simply looks like breaded chunks of deliciousness. I'm so excited about this recipe and can't wait to try it on other vegetables – I imagine it could work really well on broccoli, too!!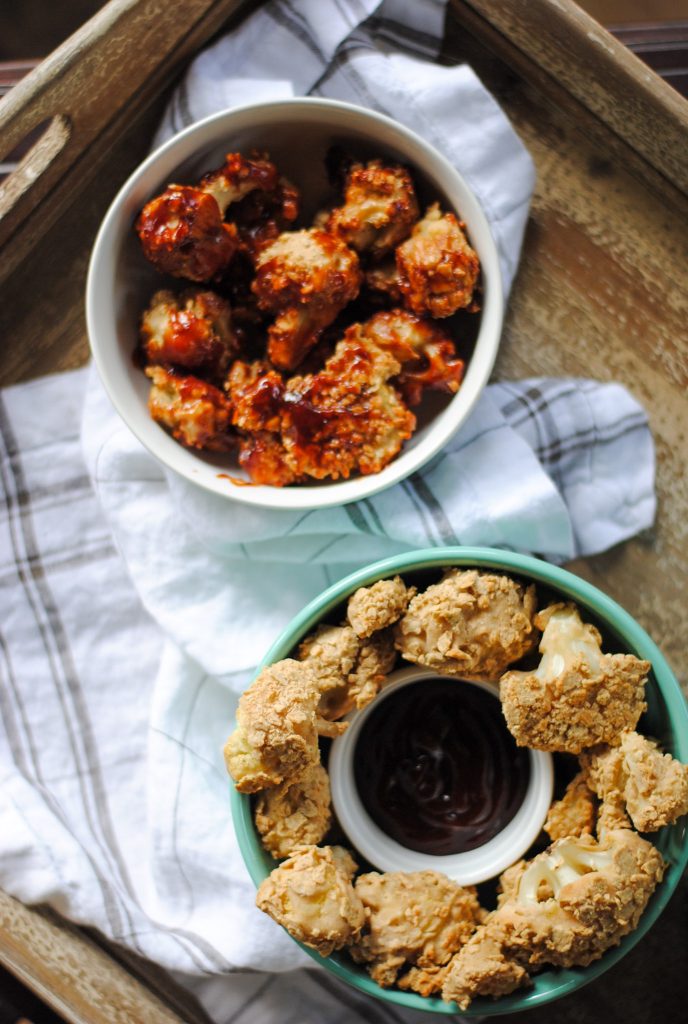 Vegan Batter Recipe
Many breaded recipes involve an egg wash/using eggs. And honestly, I don't follow a vegan diet – but I do appreciate the fact that many people need egg-free recipes. When I discovered that you could make a vegan batter to bread foods with, I was sold! It's a different consistency and definitely but it coats the cauliflower so well and creates a coating that's perfect for the crushed crackers to stick to. I'm so excited to try this on my Air-Fryer Zucchini Fries – but for now, let's focus on this vegan breaded cauliflower recipe!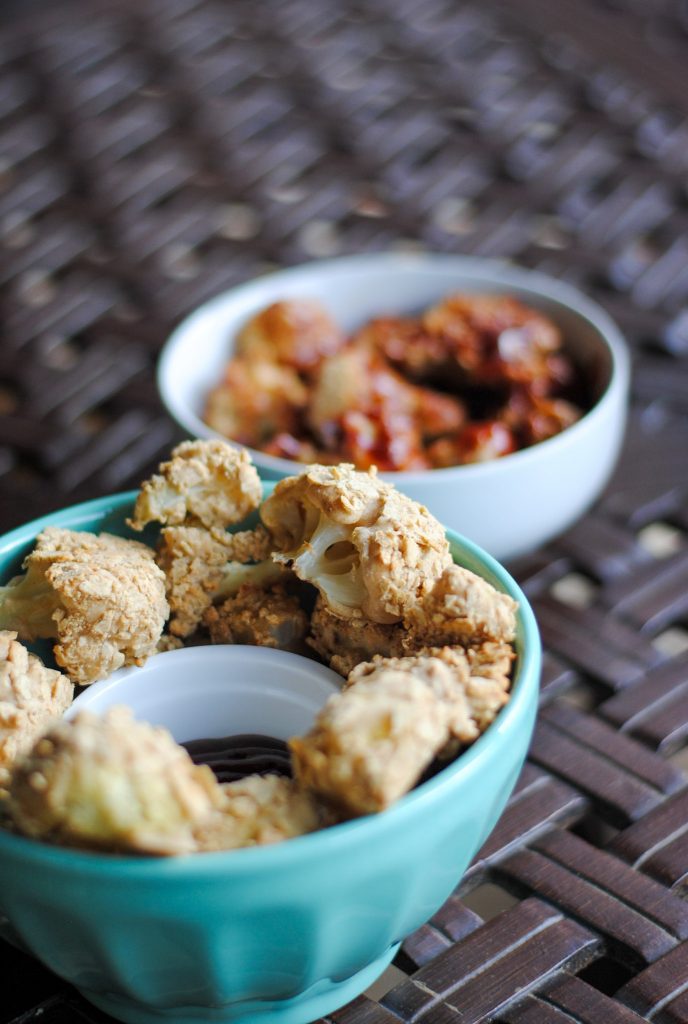 What types of flour to use in the vegan batter:
Gluten free 1:1 replacer flour works really well in this recipe. But if you want to make it grain-free, you can try almond flour or cassava flour. I made a batch with cassava flour and I truly couldn't tell a difference with this and the traditional gluten free 1:1 replacement flour.
The breading: crushed crackers
Most breaded recipes use breadcrumbs or panko to bread with. Since all of my recipes are gluten free, if you want to go this route, I'd suggest a gluten free breadcrumb recipe. Instead, I chose to make my own since I wanted a grain-free version. I used Simple Mills Almond Flour Crackers for this, but their Sprouted Seed Crackers would also work well. To make, simply dump the contents of a box (there honestly is not a lot in each box) into a high speed blender and pulse. You don't want it to be a completely fine flour, but a cross between cracker pieces and flour. You can see in the images above that some of mine had cracker pieces in them – totally fine. Again, if you'd rather skip this step, go for a gluten free breadcrumb or panko to coat.
Dipping sauces to serve with baked breaded cauliflower
Barbecue sauce
Honey mustard (make your own easily by combining equal parts of honey and mustard)
Teriyaki sauce
Ranch dressing
Ketchup (a tried and true, right?!)
Also – if you want to take things up a notch, after baking for the full 30 minutes, dunk the pieces of baked breaded cauliflower in some barbecue sauce and put them back in the oven for another 5 minutes to bake. You can see how this looks in the photos above. Break out the napkins for sure – this is messy but sooo good!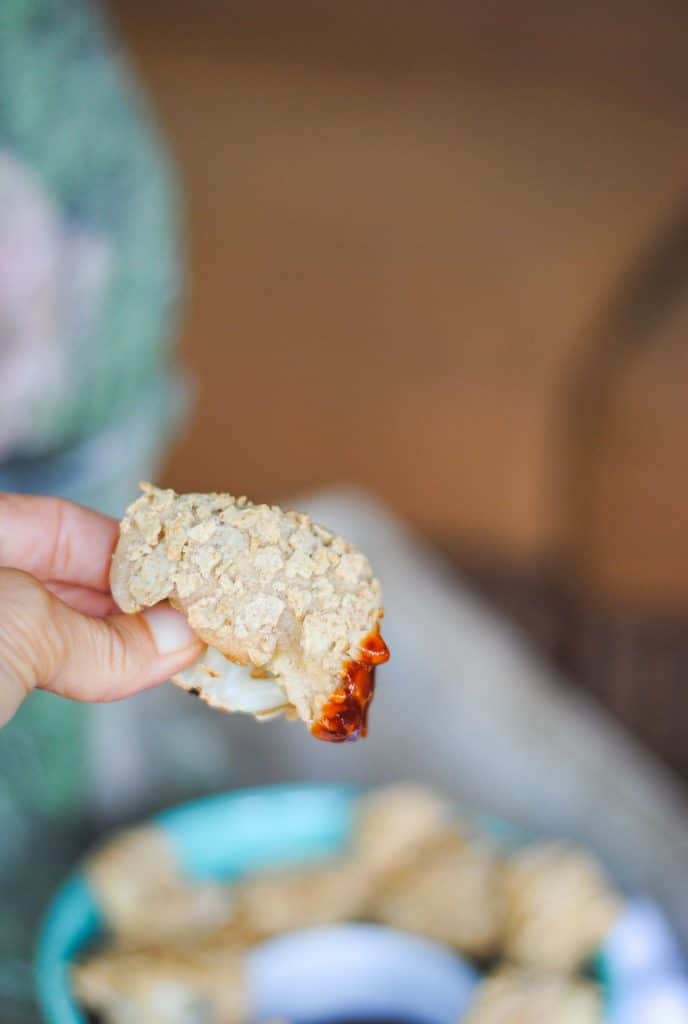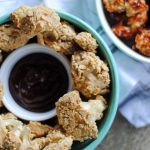 Baked Vegan Breaded Cauliflower
A vegan breaded cauliflower recipe that's kid-friendly and a tasty appetizer, too. These cauliflower "wings" are dredged in a vegan batter and then coated with crushed crackers for a deliciously tasty vegan recipe that's nut-free, gluten-free, vegan and a family favorite.
Course:
Appetizer, Side Dish
Ingredients
1

head

cauliflower, cut into florets
Vegan Batter
3/4

cup

dairy-free milk

3/4

cup

gluten-free flour

1

tsp

garlic powder

1

tsp

onion powder
For the Breading
1

box

(4.25 ounce) gluten free crackers, pulsed in the blender

I used Simple Mills Fine Ground Sea Salt Almond Flour Crackers
Instructions
Preheat oven to 425 degrees. Line a baking sheet with parchment paper.

In a medium bowl, mix batter ingredients with a fork.

Pulse crackers in a high speed blender until they are in small pieces - don't turn them quite into flour, but they should be breadcrumb-like. If you are using gluten-free panko, you can skip this step.

Set up your work station: florets on the left; batter next, then cracker crumbs (or breadcrumbs) on a plate - see note, and finally the parchment covered pan.

Dip cauliflower floret into batter. Using a fork, lift it out and roll it in crumbs. When covered, repeat with remaining cauliflower and place on parchment-covered sheet.

When done battering the cauliflower, bake for 15 minutes. Remove and flip pieces of cauliflower; bake for another 15 minutes. Let cool and serve warm with dipping sauce of choice.
Recipe Notes
Don't put all of your breadcrumbs/cracker crumbs on the plate to being with. Place a small amount of them down, use those up and add more. You may need to wipe down the plate in-between.
Nutrition Facts
Baked Vegan Breaded Cauliflower
Amount Per Serving
Calories 275
Calories from Fat 63
% Daily Value*
Fat 7g11%
Sodium 346mg15%
Potassium 501mg14%
Carbohydrates 49g16%
Protein 7g14%
Vitamin A 174IU3%
Vitamin C 72mg87%
Calcium 109mg11%
Iron 2mg11%
* Percent Daily Values are based on a 2000 calorie diet.
Ok friends – you need to let me know if you give this recipe a go and if you don't love it. I'm going to try a similar formula with broccoli and also chicken – because I have some friends who could really use a nut-free, egg-free chicken nugget recipe. How about you? Any suggestions for me?
Before I leave you, here are a few vegan recipes I think you'd really like:
Paleo Berry Cobbler (Vegan + Nut-free)
Vegetarian Fritters: A Split Pea Recipe
Vegan Cookie Dough Recipe (Raw and Grain-free!)
Healthy Lemon Cookie Recipe (Paleo, Gluten Free + Vegan)