Sometimes a little pushback gets us exactly where we need to be. Thus was the case for me; I found myself in a breakfast rut. My mornings looked something like this: woke up, had water, then coffee, exercised and came home ready to work. I'd grab whatever I saw – and truth be told, it was often a handful of plantain chips and a couple of carrots. Yikes. I knew I had to regroup and get myself back on track. That's when I discovered how easy chia pudding was to make, and now I'm hooked. So today I'm sharing a newfound love that's getting my mornings back on track: a recipe for chia pudding for one.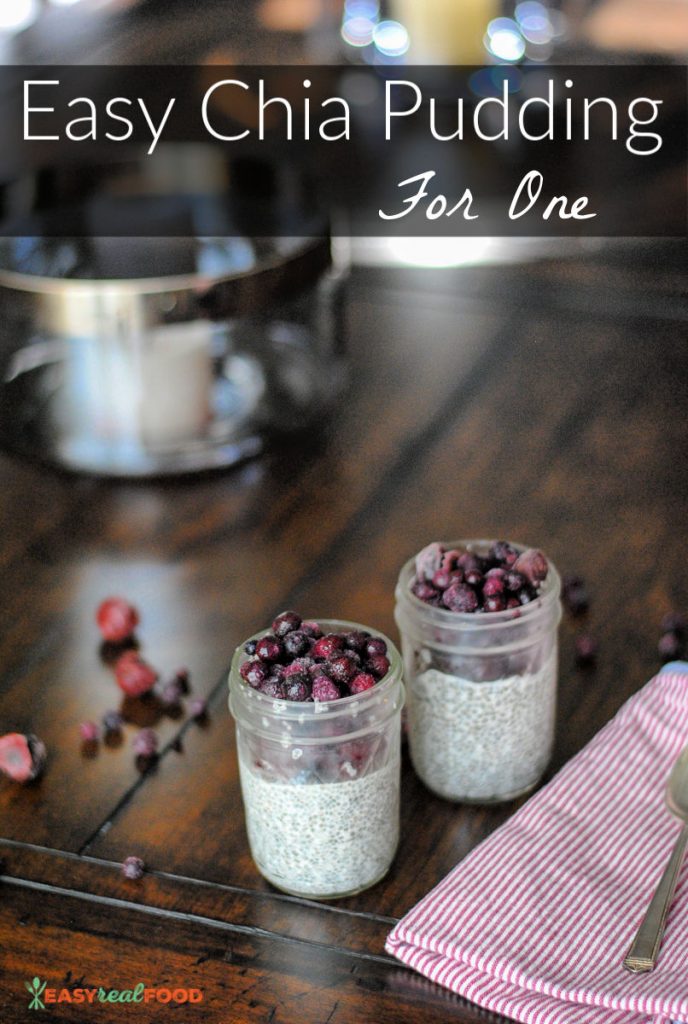 What are chia seeds?
First off, let's get to the basics. Chia seeds are the edible seeds of Salvia hispanica, a flowering plant in the mint family. They are tiny seeds, about 1 millimeter in diameter. Despite their tiny size, they are packed with nutrients including omega-3 fatty acids, fiber, antioxidants, iron and calcium. A one-ounce serving provides 5.6 grams of protein. For those counting carbs, they are also very low in carbohydrates.
How to eat chia seeds
Chia seeds can be eaten raw by being added to smoothies, sprinkled on oatmeal, cereal or yogurt, and even added to salad dressings. When combined with a liquid, they will "gel," but they will remain crunchy otherwise. They are often used in vegan baking to make vegan eggs. To make a chia egg combine 1 tablespoon of chia seeds with 3 tablespoons of water and then let them sit for a few minutes. A gel will form that can be used in lieu of eggs in baking.
Make chia gel ahead of time by placing 1/4 cup chia seeds in 1 cup of liquid. Stir well and let sit for 15-20 minutes until a gel forms. Store in refrigerator for up to one week; add to smoothies and soups to boost nutritional value and create a thicker, more satisfying consistency.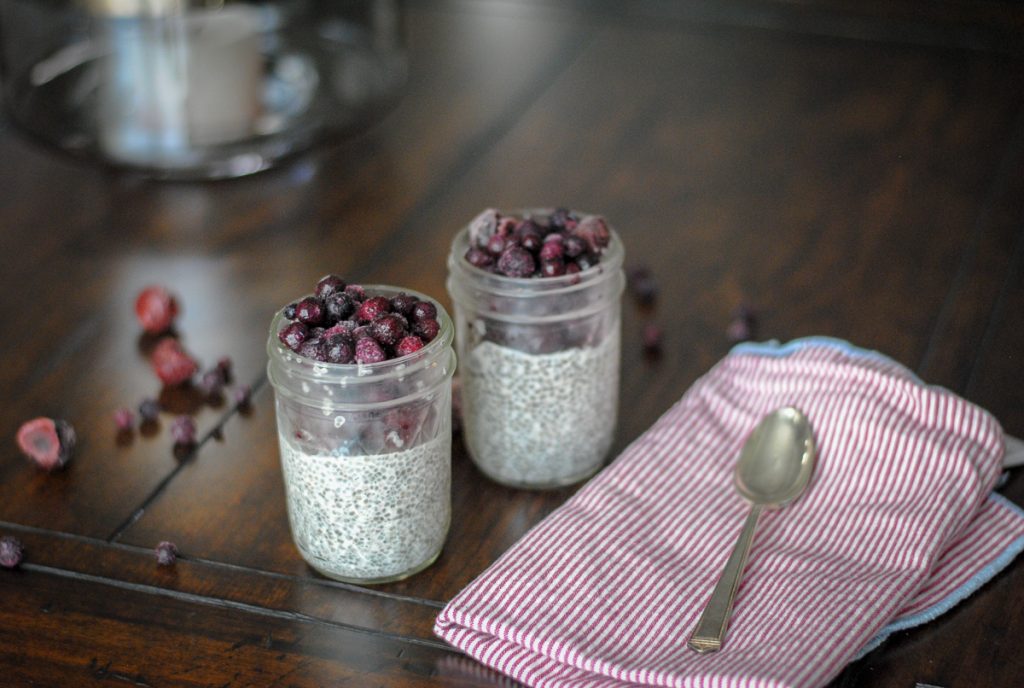 What is the right chia seed pudding ratio?
Chia pudding is a wonderful way to enjoy chia seeds in a sweeter, almost dessert form. I'll reference a specific recipe below, but the simple formula is 2 TBSP chia seeds, 1/2 cup non-dairy milk, 1/2 tsp vanilla extract and 1 tsp maple syrup. Mix this together in a jar and let sit for a minimum of 2 hours or even overnight. Top with fruit, nuts, etc. and enjoy.
Chia pudding benefits
Make ahead healthy breakfast, perfect for busy mornings
Plant-based vegan snack or breakfast
High in protein with a good balance of quality amino acids
Hefty dose of antioxidants
A majority of the carbs in chia seeds are fiber
Solid source of Omega-3 fatty acids
High in nutrients good for bones (calcium, magnesium, phosphorous)
Can help you feel full because of the fiber within
An excellent source of zinc, which helps produce leptin which in turns helps you feel full
Toppings for chia pudding
Add toppings either right when you prepare the chia pudding, or right before enjoying. Fruits make wonderful toppings. I always enjoy berries, either fresh or frozen. Bananas, cut up right before eating, are also tasty. Mango, kiwi and peach are also good options.
Try adding nuts or seeds for an additional pop of protein, or some hemp seeds or even granola to make it more satiating.
Tips: Be sure to mix the chia seeds and milk well to ensure that they all get adequate moisture. Otherwise, you may get clumps which are fine to eat, but perhaps not as tasty.
Any dairy-free milk will work, but if you enjoy dairy milk, that will also suffice. My favorite nut-free milk is either coconut or hemp milk.
Chia Pudding for One
A simple recipe for chia pudding for one. A wonderful plant-based breakfast that's perfect for busy mornings or snacks on the go.
Ingredients
2

TBSP

chia seeds

1/2

cup

dairy free milk

(hemp, coconut, almond or oat)

1/2

tsp

vanilla extract

1

tsp

maple syrup
Instructions
Combine all ingredients in a jar. Mix to ensure they are combined. Cover with lid and place in fridge for a minimum of 2 hours. When ready to eat, top with berries, nuts, seeds, dried coconut, banana, etc.
Nutrition Facts
Chia Pudding for One
Amount Per Serving
Calories 194
Calories from Fat 90
% Daily Value*
Fat 10g15%
Sodium 64mg3%
Potassium 264mg8%
Carbohydrates 19g6%
Protein 7g14%
Vitamin A 464IU9%
Vitamin C 9mg11%
Calcium 317mg32%
Iron 2mg11%
* Percent Daily Values are based on a 2000 calorie diet.
Other make-ahead breakfast ideas:
Easy Gluten Free Bread Pudding