Oh how I love fall. The colors, the smells, the crispness in the air. And then there's pumpkin. Somehow I feel like just about anything tastes better with pumpkin, right? Well maybe not just everything. But there's something so fabulously fall about the fruit – yes, fruit. Remember the classification reasons? It has seeds …. I digress. Since most of us refer to it as a vegetable, I'll just go with that;).
I love making a homemade PSL, pumpkin soup and pumpkin custard. So I thought I'd try my luck with pumpkin brownies. I mean, pumpkin and chocolate? Why not?! Plus this way we can rationalize that we're getting some good stuff along with they yummy.
What I love about these pumpkin brownies is that they are made with all real food. No white sugar here, thank you very much. Instead I sweetened them with maple syrup, an unprocessed sweetener that provides higher levels of potentially beneficial minerals including zinc, calcium, potassium and magnesium. In addition, it's lower on the glycemic index than regular cane sugar and won't impact your blood sugar level as greatly as the standard.
What are the benefits of eating pumpkin?
Rich in a beautiful orange color, pumpkin is full of vitamins, minerals and antioxidants and is incredibly healthy. Pumpkin is actually low carb and low calorie, yet high in Vitamins A and C. It also has a strong offering of Vitamin E, Iron and Folate, which are said to help strengthen the immune system.
One half cup of pumpkin provides 280% of the daily recommended requirement of Vitamin A, and in the form of beta carotene, it is said to help protect skin from harmful UV rays.  Be sure to use pumpkin puree and not pumpkin pie mix.
Can you taste the pumpkin in these pumpkin brownies?
With the addition of the spices and the nut butter, you honestly can't taste it at all. Instead, it provides a moistness that attributes to a fudgy, delicious brownie that I feel good about feeding my kids since I know that it's made with solid ingredients.
Can I use a different nut butter? 
Of course! I personally can't eat peanuts or peanut butter, but I'm sure these would be delicious with peanut butter. The photos are taken with cashew butter; I used Trader Joe's Cashew Butter since it's the perfect consistency. Whichever nut butter you use, be sure to use a drippy kind.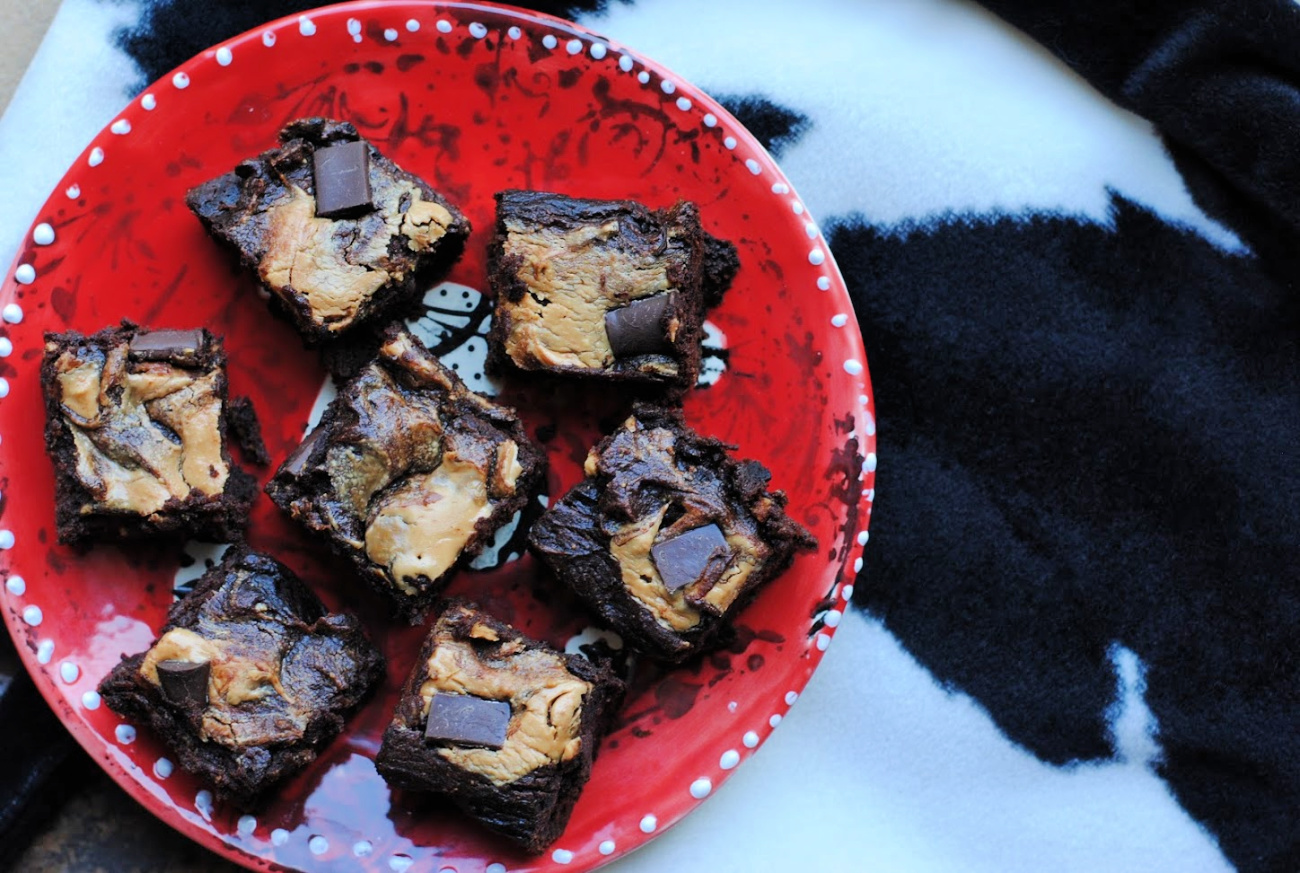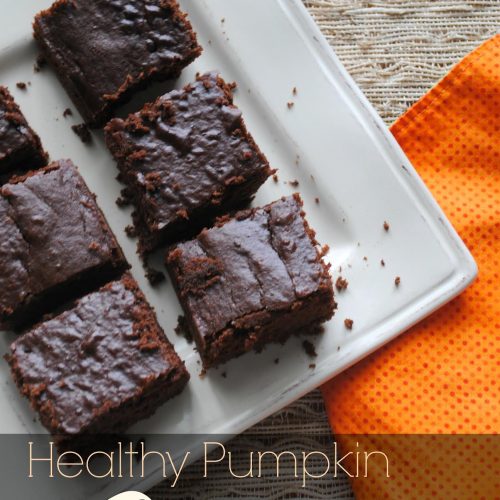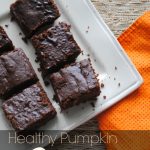 Healthy Pumpkin Brownies
Tasty brownies punched up with a touch of pumpkin. Seasonal and delicious, and a great way to incorporate vegetables into a treat!
Keyword:
baked goods, dessert, pumpkin
Ingredients
1/2

cup

gluten free 1:1 replacer flour

sub whole wheat if not gluten free

1

tsp

pumpkin pie spice

1/2

tsp

cinnamon

1/2

cup

cocoa powder

1 1/2

tsp

baking soda

3/4

cup

pumpkin puree

3/4

cup

cashew butter

sub almond or peanut butter

1

tsp

vanilla extract

1/2

cup

maple syrup

1/4

cup

butter

melted

1

egg

2

tbsp

cashew butter

use same nut butter you use in mix

1/4

cup

chocolate chips

, optional
Instructions
Preheat oven to 350 degrees F. Prepare a 9" baking pan by lining it with parchment paper and then spraying the paper.

Mix dry ingredients in a medium bowl. In another medium bowl, mix wet ingredients, aside from the 2 TBSP of cashew butter listed last. Slowly mix dry ingredients into wet, being careful not to over mix.

Using a spatula, spread brownies into prepared pan. Make 4 lines in the batter with the 2 TBSP of cashew butter. Take a knife and swirl it; then sprinkle chocolate chips on top.

Bake for 26-27 minutes, or until a toothpick inserted in the middle comes out dry. Let cool before slicing.

Let cool for 20 minutes, then place in fridge for 45 minutes to let cool before slicing.
Nutrition Facts
Healthy Pumpkin Brownies
Amount Per Serving (0 g)
Calories 185
Calories from Fat 108
% Daily Value*
Fat 12g18%
Cholesterol 18mg6%
Sodium 151mg7%
Potassium 229mg7%
Carbohydrates 17g6%
Protein 5g10%
Vitamin A 1891IU38%
Vitamin C 1mg1%
Calcium 80mg8%
Iron 1mg6%
* Percent Daily Values are based on a 2000 calorie diet.
Tips on making this healthy pumpkin brownie recipe:
To make the swirl: after placing batter in an 8 x 8 or 9 x 9 pan, take the additional 2 TBSP of cashew butter and make 4 lines in the batter. On top of this, take a knife and "swirl" the cashew butter as desired. Top with optional chocolate chips.
Press chocolate chips into the batter for best results.
As tempting as it is, don't eat them straight out of the oven. For optimal results, let the brownies cool for 20 minutes and then place them in the fridge for 30-6o minutes to let them cool before enjoying.
Store brownies in the refrigerator for up to 4 days.

These are just glorious right out of the oven. In fact, my kids would've finished the whole pan if they had their say! But after making a few batches to get these just right, we'd all had our fair share of pumpkin brownies. Thank goodness tomorrow is a new day.
Try out these lovely pumpkin brownies and let me know what you think. And also let me know what your favorite pumpkin-fied foods are in the comments below.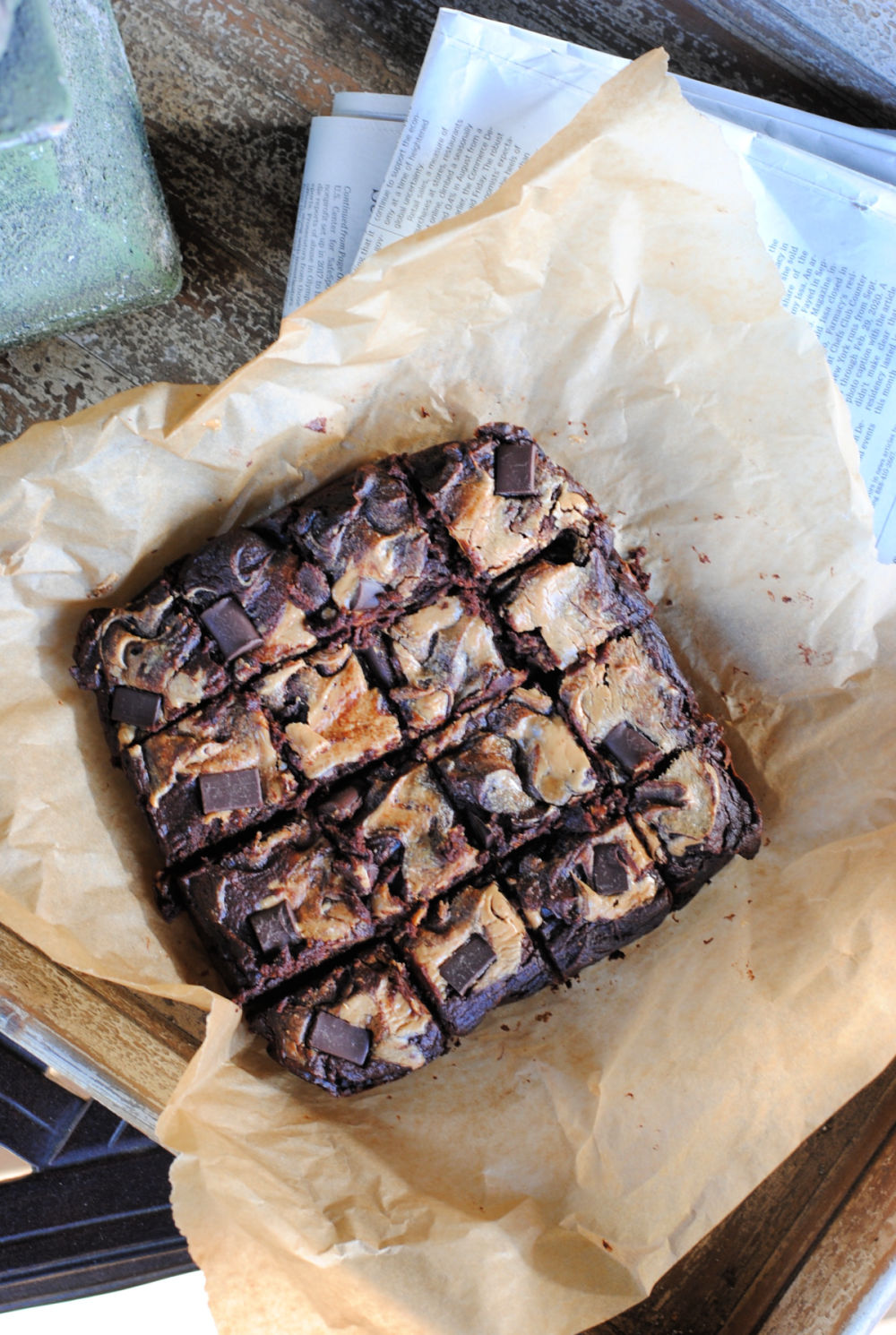 Other healthy pumpkin recipes you may enjoy
Flourless Pumpkin Blender Muffins
Kid-friendly Pumpkin Energy Balls