My husband has been on a kick where he tries to eat fewer carbs. He also has to have meat with every meal, which makes it interesting because I don't eat red meat or pork and minimize any other meat that I do it. Anyhow, I recently made this new dish, Apple Cider Chicken Stew with Parsnips, and he tried to pick out the parsnips thinking that they were potatoes. Not so! Parsnips are a wonderful root vegetable that I enjoy in autumn, and especially in this dish. When paired together with apple cider and chicken broth, it makes a delicious comforting meal.
Apple Cider Chicken Stew with Parsnips: a Fall Dinner Idea
I'm don't generally keep apple cider on hand, but my kids do enjoy it, and I figured it would pair well in a fall stew. The minimal amount of apple cider, when paired with chicken broth, provides a slightly sweet and just as savory thickened broth, full of tasty cooked carrots. This is a wonderful recipe to turn into a a freezer meal, or to at least prep over the weekend. Do the washing and chopping ahead of time and get it on the stove in no time.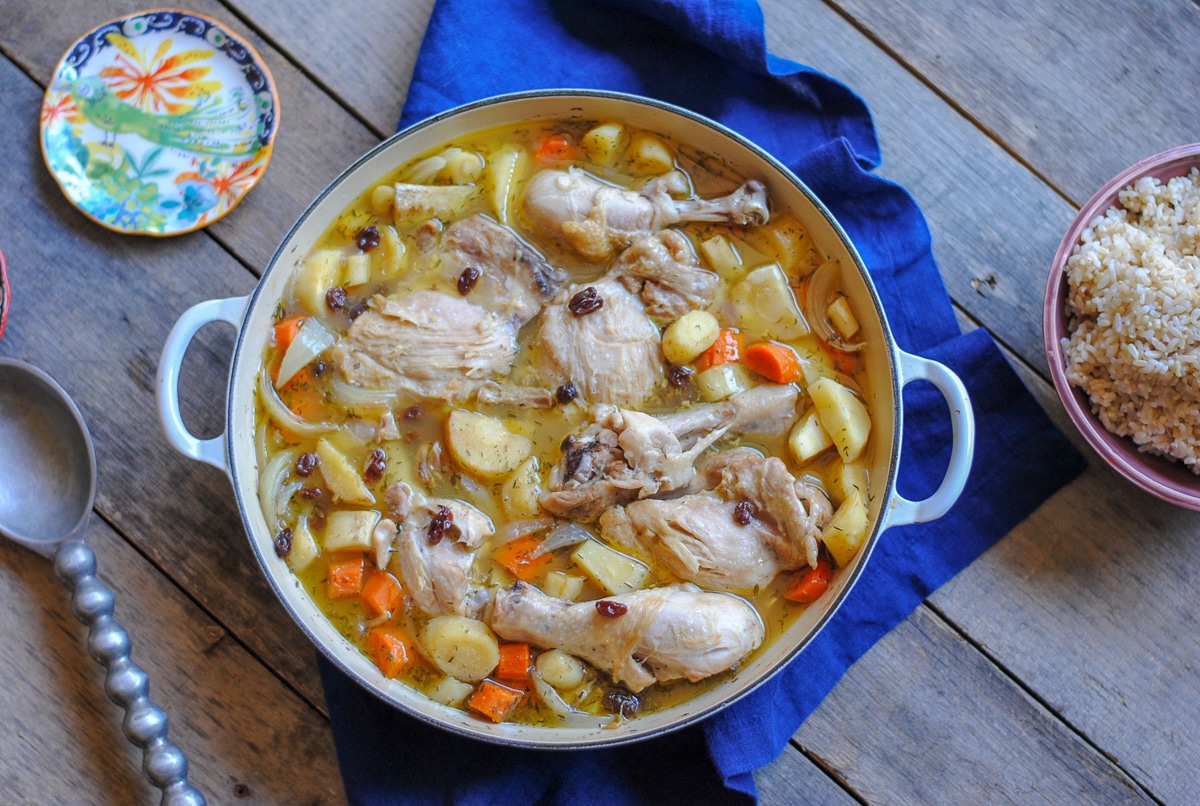 What do you do with parsnips?
Parsnips are lovely when paired with chicken broths and soups; they can also be baked, sautéed, steamed, mashed or pureed, roasted, and fried. My Roasted Root Vegetable Stew has parsnips, too – another fall favorite.
A member of the carrot family, parsnips are fatter than carrots but resemble them quite well. While parsnips do share a similar nutritional value to potatoes, parsnips are lower in calories and have more fiber than potatoes.
How to serve Apple Cider Chicken Stew
We enjoyed this meal atop simple brown rice, which sopped up the broth nicely. It would also be wonderful topped on mashed potatoes, or even with some corn muffins on the side to dip. If you are grain free, serve a nice salad along the side, and with a spoon and fork, you can enjoy it as is.
What you need to make this chicken stew recipe
I borrowed my friend's Le Creuset Cast Iron Braiser to make this recipe. I have my eye on a gorgeous piece of Staub – it's a larger Dutch oven, and I'm putting it on my Christmas list! In the meantime, I was grateful to have my friend's to borrow. You can use a large pot or Dutch oven in this recipe.
Because my recipes are gluten free, I used a 1:1 gluten free replacer flour in this recipe. I also picked up organic apple cider at my local grocery store. Yes, it still has sugar, but I do like that it's organic because apples are almost always on the dirty dozen list.
I love this 2 quart glass bowl for mixing. It has measurements on the sides making it easy to measure out ingredients without making a lot of mess.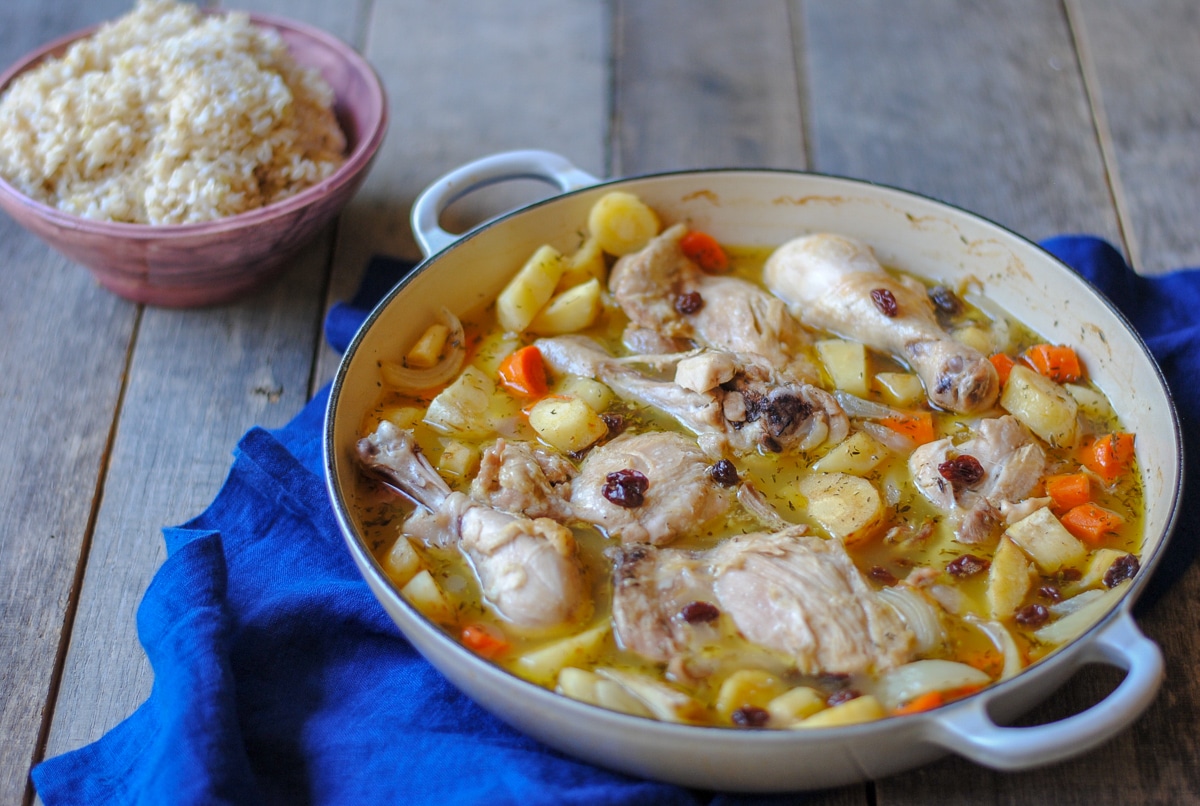 Apple Cider Chicken Stew with Parsnips
Apple cider chicken stew is a fall chicken recipe, with carrots, parsnips and chicken stewed together in an apple cider and chicken broth base.
Ingredients
2

tbsp

olive oil or butter

4

chicken drumsticks

, skin removed

4

chicken thighs

, boneless and skin removed

1/2

tsp

salt

1

tbsp

gluten free flour

3/4

cup

apple cider

1 3/4

cups

low sodium chicken broth

1/2

onion

, cut into thin slices

1

lb.

parsnips

, peeled and cut into 1" pieces

4

carrots

, peeled and cut into 1" pieces

1/2

tsp

dried thyme

1/4

cup

raisins

, optional
Instructions
Preheat oven to 400 degrees. Rinse chicken pieces and dry on paper towels.

Heat oil or butter in a large pot or Dutch oven over medium heat. When hot, add chicken pieces making sure to not crowd each other. Brown chicken (5-6 minutes) and remove to a platter.

Drain some of the extra fat, leaving at least 1 TBSP. Add gluten free flour and stir for 1 minute. Whisk in the apple cider and broth and bring to a simmer - cook for 6-8 minutes, stirring frequently. Add in onion, parsnips, carrots and thyme; add chicken pieces back and raisins if you are using. Bring to a simmer, cover, and place in the oven for 20-25 minutes. Remove from oven (it will be hot!!) and let cool before serving.
Nutrition Facts
Apple Cider Chicken Stew with Parsnips
Amount Per Serving
Calories 410
Calories from Fat 207
% Daily Value*
Fat 23g35%
Cholesterol 120mg40%
Sodium 364mg16%
Potassium 833mg24%
Carbohydrates 28g9%
Protein 24g48%
Vitamin A 6876IU138%
Vitamin C 17mg21%
Calcium 61mg6%
Iron 2mg11%
* Percent Daily Values are based on a 2000 calorie diet.
I hope you enjoy this fall dinner recipe. If you're looking for other fun autumn meals, don't miss my recipe for how to roast a butternut squash or paleo pumpkin gnocchi!