Estimated reading time: 4 minutes
Jump to Recipe
A delicious gluten free dairy free pumpkin pie recipe made without eggs. This vegan pumpkin recipe uses tofu, which adds a wonderful thick texture. Ne eggs and no evaporated milk in this Thanksgiving pie favorite.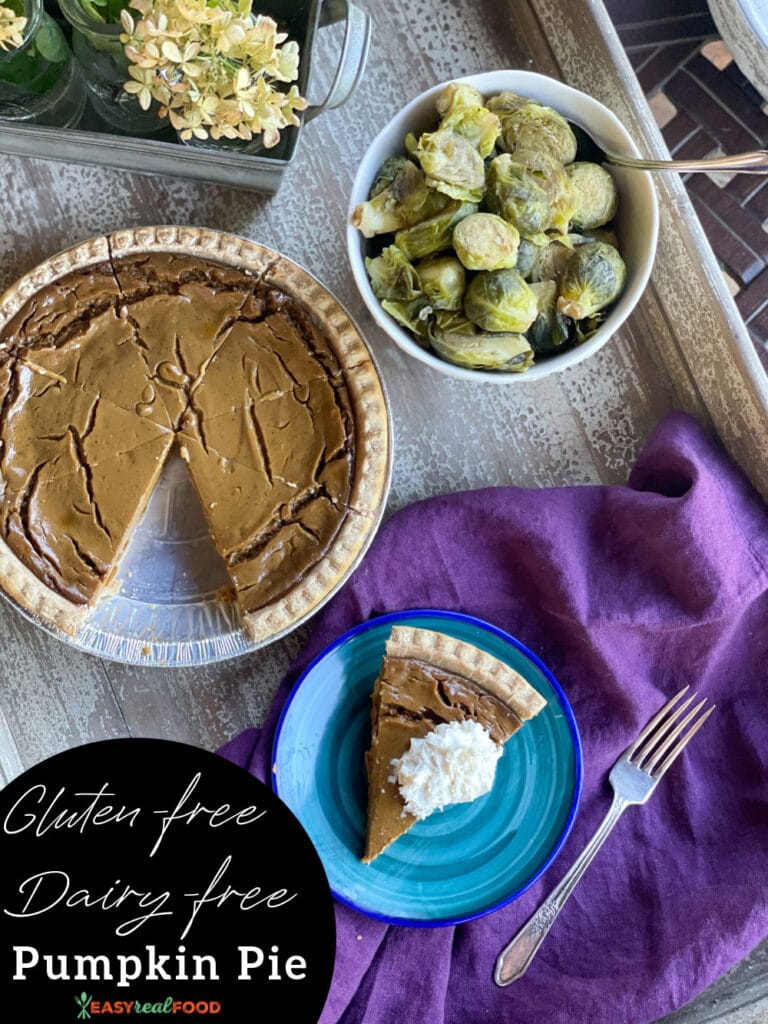 Gluten Free Dairy Free Pumpkin Pie
While I personally think pumpkin pie is a love/hate thing, those in our house LOVE it and it's a staple on our holiday table. Problem is—I am personally lactose intolerant and one of my kids cannot eat dairy due to a sensitivity.Traditional pumpkin pie is made with evaporated milk, which we cannot do. So I've made a delicious pumpkin pie recipe that has a few tweaks to make it healthier and vegan at the same time!
If you need a holiday favorite that's easy, and free of common allergens, you've come to the right place!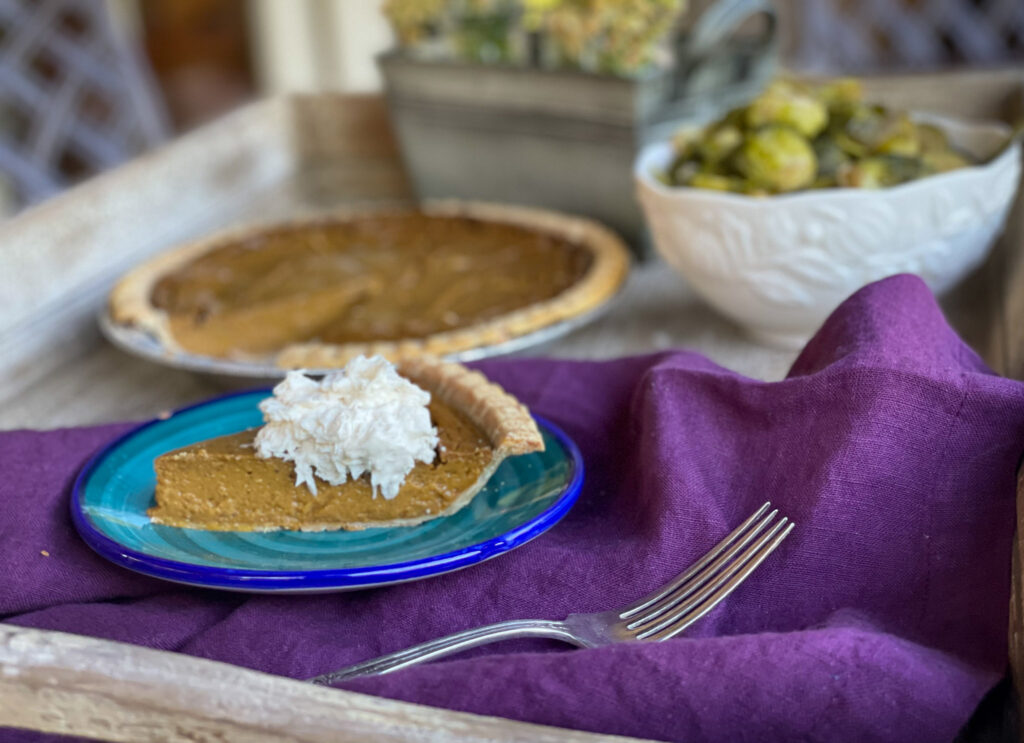 How to make gluten free dairy free pumpkin pie
I made a number of substitutions in this recipe to improve it from the traditional. Some of these include:
Subbing coconut sugar for white/brown sugar. Coconut sugar is a tad less sweet than the alternatives, and honestly, I just can't eat the super sweet foods anymore. This also lets the spices shine through.
Arrowroot powder is used to thicken the mixture a bit since there are no eggs within.
The big game changer: tofu is used in lieu of evaporated milk. It yields a thick, almost pudding-like consistency when paired with the other ingredients. Plus there's a little pop of protein from it!
What can you substitute for evaporated milk in pumpkin pie recipe?
This has always been a struggle for me. Being lactose intolerant, I always wanted to use the simple recipe that calls for evaporated milk. The creamy texture works very well in a traditional pumpkin pie recipe. But on the flip side, it is said that evaporated milk can contain up to two times the lactose of regular milk with its higher carb content. This can also pose a problem to those with milk allergies.
Using tofu (I like to use the sprouted tofu from Trader Joe's) instead of evaporated milk yields a similar result in the end product of the pumpkin pie filling. It's creamy, healthy, and contains protein, too. And of course it's dairy-free! Note that if you have a soy allergy, this will not be a solution that works for you.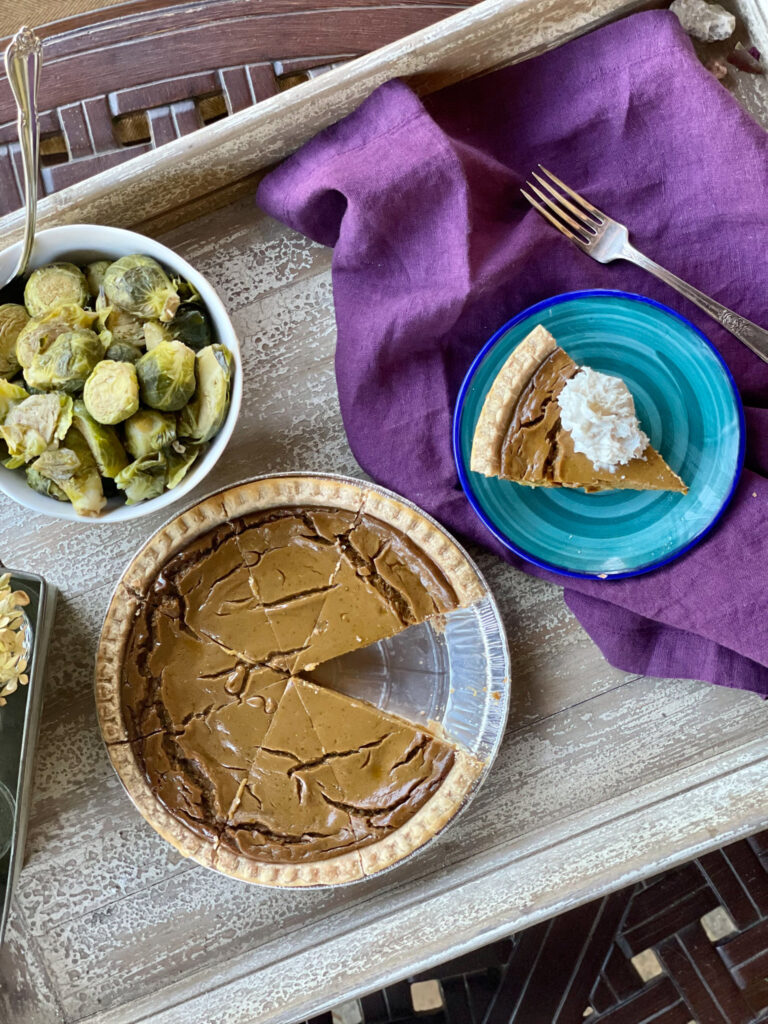 What type of gluten free pie crust should I use in this Thanksgiving Pie?
My friend Shawn and I baked pies together when testing this recipe, and she made a homemade (gluten free) graham cracker crust with these graham crackers. I purchased a pie crust from Trader Joe's (these are seasonal) and used that. There are plenty of ready store-bought crusts available, or if you choose to make your own,I'd highly suggest a graham cracker crust, too.
As an aside, I must tell you—if you are grain-free or looking for pumpkin pie with no crust, you must try these Crustless Mini Pumpkin Pies (Gluten-free, Dairy-Free) !
How to serve dairy free pumpkin pie
Make sure to let this sit in the refrigerator for a minimum of 4 hours before serving. I actually would recommend letting it sit for 8 hours, or overnight if possible. If you are making this for Thanksgiving, put this on your "make ahead" list.
Serve this pie cold with or without whipped cream. Obviously if you need a dairy-free version, there are many to choose from. Most stores offer either coconut, almond or oat whipped cream. And while I personally almost always fail when making it, you can make your own homemade coconut whipped cream, too.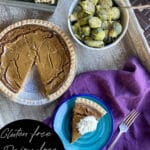 Gluten Free Dairy Free Pumpkin Pie
A delicious gluten free dairy free pumpkin pie recipe made without eggs. This vegan pumpkin recipe uses tofu, which adds a wonderful thick texture. Ne eggs and no evaporated milk in this Thanksgiving pie favorite. 
Ingredients
1

can

pumpkin puree

NOT pumpkin pie mix

16

oz

tofu

2

tbsp

arrowroot powder

3/4

cup

coconut sugar

1

tsp

cinnamon

1/2

tsp

ginger

1/4

tsp

cloves

1/2

tsp

salt

1

tsp

vanilla

1

gluten free pie crust
Instructions
Preheat oven to 425 degrees.

In a blender, blend all ingredients, scraping down edges and blending as needed until mixed. Pour mixed ingredients into prepared pie crust.

Bake in the preheated oven until lightly browned, about 15 minutes. Reduce oven to 350 degrees F; bake until a knife inserted in the center comes out clean, about 40 to 50 minutes.
Nutrition Facts
Gluten Free Dairy Free Pumpkin Pie
Amount Per Serving
Calories 382
Calories from Fat 63
% Daily Value*
Fat 7g11%
Sodium 280mg12%
Potassium 137mg4%
Carbohydrates 68g23%
Protein 14g28%
Vitamin A 8269IU165%
Vitamin C 12mg15%
Calcium 124mg12%
Iron 4mg22%
* Percent Daily Values are based on a 2000 calorie diet.
Other Healthy Pumpkin Recipes
Healthy Pumpkin Pie Granola Recipe + A Story of Friendship
Paleo Pumpkin Bread with Coconut Flour
Paleo Moist Pumpkin Scones + a Maple Drizzle (Grain Free)
Flourless Pumpkin Blender Muffins
Fluffy Grain-Free Pumpkin Waffles
So there you have it! I'd love to hear if you make this and what you think.
Be sure to tag me on Instagram at @easyrealfood so that I can share your creation!! Thanks for reading!