Estimated reading time: 11 minutes
Here's how to make sure you're choosing a smart snack rather than a smartly marketed candy bar: These are the 10 best paleo bars out there. Bars have minimal ingredients, no refined sugars, healthy real foods within and some with a healthy dose of protein. If you're looking for healthy grain free bars, look no further.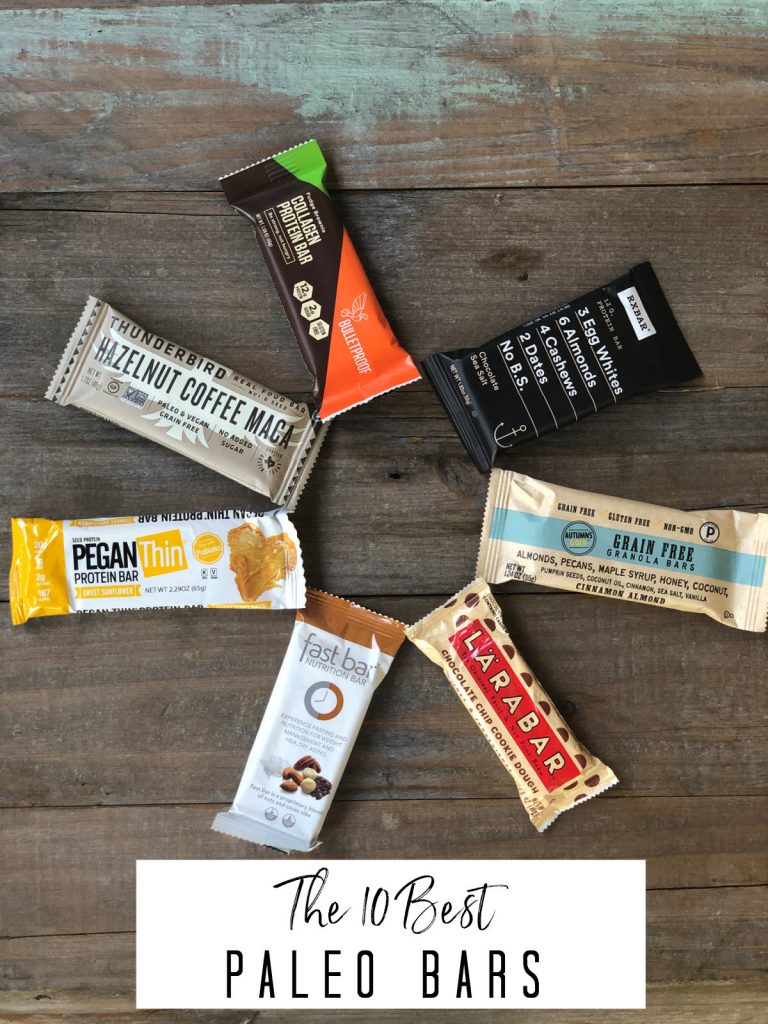 10 Best Paleo Bars
I've been a fan of bars ever since I can remember. Back in the day, before I had any food sensitivities, I didn't care much about which bars I ate. I primarily focused on ones with protein and ones that tasted decent. Flash forward, and I've expanded my knowledge to realize that many bars are glorified candy bars.
I've got a number of recipes where you can make your own, including Raw Seed Energy Bars, Easy Homemade Chewy Granola Bars; No Bake, and this latest one, 5 Ingredient Protein Bars – Dairy-free, Gluten-free. I also have a bunch of energy balls/bites/whatever you like to call them such as Easy Energy Balls, 3 Ingredient Paleo Energy Bites and even Peanut Butter Protein Balls. But sometimes convenience calls and you want a healthy bar to grab and take with you. So I present to you a list of the top 10 best paleo bars. But first – the criteria in selecting the healthiest protein bars:
Shopping Tips: What to look for in searching for the healthiest bars:
Looking for the cleanest protein bars? Follow these simple tips:
Bars should have minimal ingredients
Ingredients should be recognizable
Main ingredients of the best protein bars should include nuts, seeds, dried fruit and a clean protein powder (if included)
Avoid highly processed additives
Paleo bars should be void of any grains or unnatural sweeteners
Watch the sugar inclusions, and pay attention to if they are added or natural
Sugar alcohols such as maltitol, xylitol, sorbitol and glyserol can cause digestive distress in some
Now without further adieu – the top 10 Best Paleo Bars
1. RX Bars
Made with recognizable ingredients, this is a favorite among many nutritionists Each RX Bar is packed with egg whites, dates and nuts and there are a number of flavors to choose from. Bars are super satiating and therefore a great after-school or pre- or post-workout snack.
The pros:
Minimal ingredients, all listed on the front of the bars
Sweetened naturally with dates
Packed with natural protein
Paleo-friendly
Numerous flavors to choose from. My favorite by far is Chocolate Sea Salt.
The cons:
Whole food bars packed with plant-based protein and nutrient-dense ingredients. With zero added sugars, these are sweetened with fruits like dates and cherries.Thunderbird Real Food Bars come in 13 flavors – I personally love the Hazelnut Coffee Maca and the Chocolate Raspberry Espresso. Are we seeing a trend here? 🙂
The pros:
Paleo, Vegan and Grain-free
No added sugars
Plant-based natural protein
10 simple, recognizable ingredient
No nuts, just seeds
The cons:
If you're looking for protein powder, there is none here.
A gluten-free, grain-free, soy-free, Vegan and Paleo bar, Pegan Thins are made with 98% organic ingredients. The organic seed plant protein profile consists of Sacha Inchi and pumpkin seeds – both with a complete amino acid profile. Try the Chocolate Lava flavor (tastes like a brownie) or Sweet Sunflower.
The pros:
1 gram of sugar, 1 net carb
High in fiber
Soft texture
Monk fruit sweetened
The cons:
4. LARABARS
Peanut Butter Chocolate Chip is my son's favorite (he can do peanuts); I personally love Chocolate Chip Cookie Dough. Cashew Cookie is made of just two ingredients – cashews and dates!
The pros:
Made with all fruit and nuts
Some flavors contain only 2 or 3 ingredients
No added sweeteners
Gluten-free, non-GMO and fair trade
The cons:
Not very high in protein
Though sweetened naturally, bars contain 15-17 grams of sugar
Not organic
A newly discovered one of mine, Autumn's Gold Bars are packed with nutritious protein all coming from almonds, pecans and sunflower seeds. Coconut oil adds healthy fats, and anti-inflammatory cinnamon.
The pros:
Sweetened naturally with maple syrup and honey
Minimal ingredients
Healthy fats included with coconut oil
No protein powder added, protein is all natural
The cons:
Some find the cinnamon taste to be strong. I personally love it.
5 grams protein per bar (low if you are looking for more)
A bar created for fans of intermittent fasting, Fast Bars provide necessary nutrients & calories to boost your ability to fast longer. Bars offer plant-based protein including macadamia nuts, pecans, almonds and a few other ingredients. Bars are sweetened naturally with honey. Try the Cocoa Nuts flavor.
The pros:
Great for intermittent fasting
Keto-friendly
High in fiber
No dairy or soy
Plant-based protein
The cons:

7. IQ Bar
IQ Bars, which come in three flavors, were created to help keep you full, focused, and energized all day long. IQ Bars are Keto, Paleo-Friendly, Vegan, Non-GMO, Gluten-Free, Dairy-Free, Soy-Free and High Fiber. Nutrients used for brain-boosting support include Lion's Mane, MCT's, Omega-3's and Vitamin E.
The pros:
Super diet-friendly (see above – not only a paleo bar, but also keto, vegan, non-gmo, grain-free bar and more)
3 net carbs
12 grams of protein
The cons:
More ingredients than some of the other bars listed here, including pea protein, protein crisps and gum acacia

A mix of nuts and seeds make up this grain-free breakfast and guilt-free snack. With three varieties to choose from, the Cinnamon Raisin version is definitely my favorite. Tastes like granola made into a bar.
The pros:
5 grams of plant-based protein
7 grams of sugar
Protein-rich almonds, walnuts, pumpkin seeds, sunflower seeds, and chia seeds
The cons:
Sweetened with tapioca syrup and does contain minimal sugar – sorta misuses the word paleo

9. Bulletproof Collagen Protein Bars
Stay full and focused with Bulletproof Collagen Protein Bars which combines organic cashews & cashew butter with grass-fed collagen, Bulletproof XCT Oil, Inulin and just a few other ingredients.
The pros:
Made from organic ingredients
Low sugar (2 grams per bar)
12 grams of protein per bar
Keto-friendly
The cons:
Inulin (fiber) can cause digestive distress in some
Bars crumble slightly

10. Raw Crunch Bar
Keep it simple with these raw, soaked, dehydrated, organic, handmade, non GMO, gluten-free, dairy-free, low-carb, Paleo protein bars. With just 5 grams of sugar per bar, these are unbaked, healthy, and the perfect refueling snack for on-the-go.
The pros:
Dehydrated rather than baked in order to maintain their original concentrated nutrients
Made with organic real food ingredients
One of the best paleo bars that satisfies so many other diets
Family-owned
5 grams natural sugar/bar
The cons:
---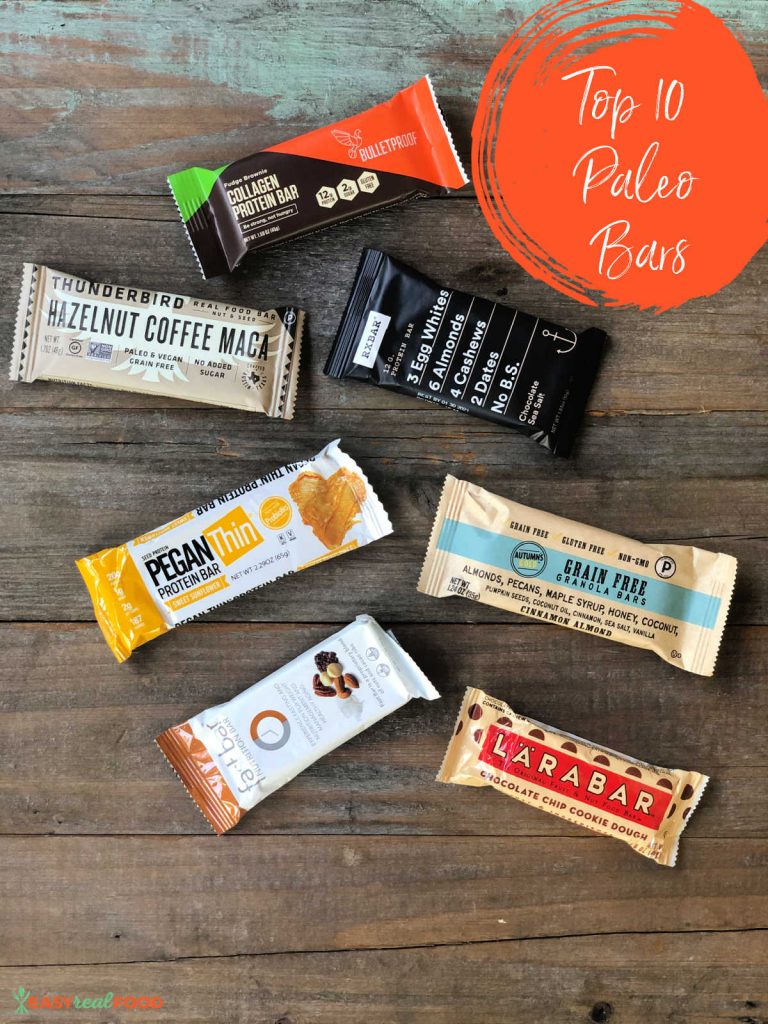 So there you have it. The 10 best Paleo bars that are out there, all which are grain-free bars and many which are plant-based. Which ones have you tried? What have you liked? Any ones that I have missed? Please share in the comments below!