Oatmeal has so many benefits to it. Rich in antioxidants, they are full of fiber (which not only helps you feel full, but also keeps you regular), and are said to help lower cholesterol. Oats are also said to reduce blood sugar. But aside from health benefits, oats are economical, easy to find and can be the foundation for breakfast, snacks, bars and even desserts. Today I'm sharing how to make easy instant pot oatmeal, my new favorite method since its fail-proof and so easy!
Instant Pot rolled oats recipe
There are different type of oats – quick oats, rolled oats, and steel cut oats. My kids' favorite used to be quick oats, but about 7 years ago I realized that rolled oats have some benefits that I was a fan of: quick oats are digested more quickly, so they don't keep you feeling full as long, and aren't quite as good at stabilizing blood sugars as old fashioned and steel cut oats. This is due to the way that they are processed; the are actually partially cooked prior to purchase which is why they cook faster. Though we sometimes to enjoy quick oats, my preference is rolled oats and the recipe for cooking oats in an Instant Pot is for this type of oatmeal.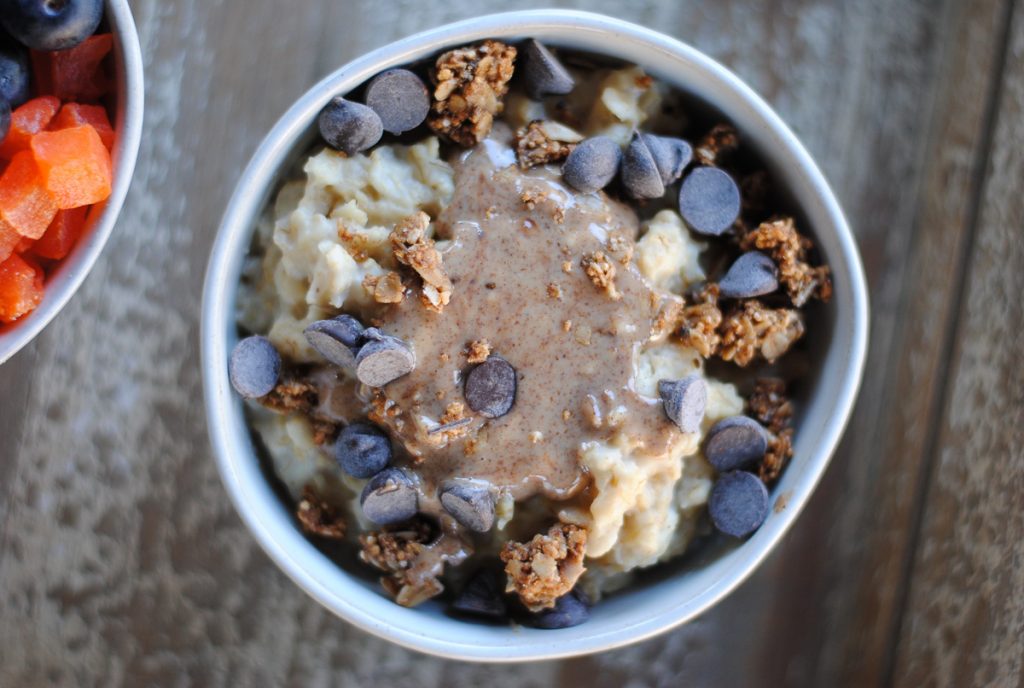 Instant Pot steel cut oats
All this being said, there are good benefits to steel cut oats, too. And honestly, when cooked in the Instant Pot, they are probably the best (tasting) that they can be. My kids and I most prefer rolled oats, but steel cut oats have their benefits, too.
What is the difference with rolled oats and steel cut oats?
Steel cut oats are coarser, chewier and nuttier than rolled oats. They typically take longer to prepare than other oats and have a bit more fiber as well. Rolled oats and old-fashioned/quick oats have both gone through a steaming and flattening process and have a milder flavor and softer texture. This contributes to their quicker cooking time – but when cooked in the Instant Pot, it only takes the same amount of time but just more liquid.
Does the cooking process differ with rolled oats and steel cut oats?
Yes. Rolled oats require a 2:1 ratio of liquid to oats, while steel cut oats require a 3:1 ratio. Because steel cut oats are less processed, they need more liquid to soften the grain.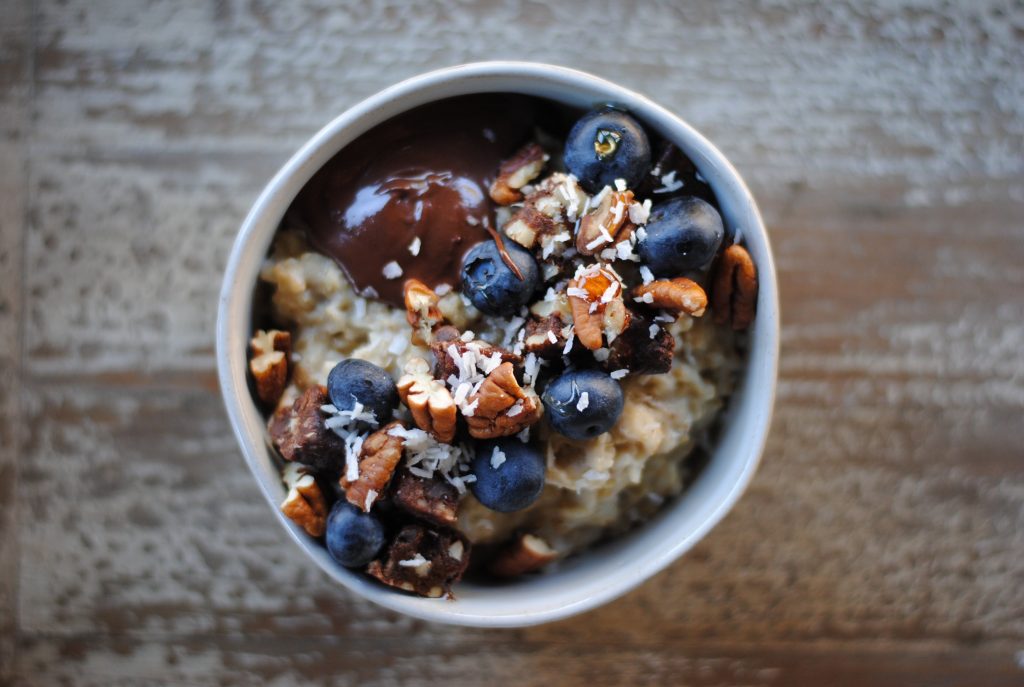 My favorite toppings for Instant Pot oatmeal:
Honestly, we had so much fun with this. My 13 year-old and I decorated the pictured oatmeals. Can you guess which ones she created and which ones I did? The options for toppings are endless. Some of our favorites include:
Dried fruit (mango, cranberries, apple, pineapple)
Almond slices
Pumpkin seeds
Sunflower seeds
Chocolate chips
Blueberries
Raspberries
Blackberries
Banana slices
Diced apple (cooked or raw)
Caramelized banana
Nut butter
Nutiva chocolate hazelnut spread (pictured)
Larabar (pictured)
Raisins
Unsweetened coconut flakes
Honey
Pumpkin puree

Why I like cooking oatmeal in the Instant Pot
Much less sticking to the pot than when they are cooked on the stove
No stirring required
The texture is always creamy
An easy set-and-cook recipe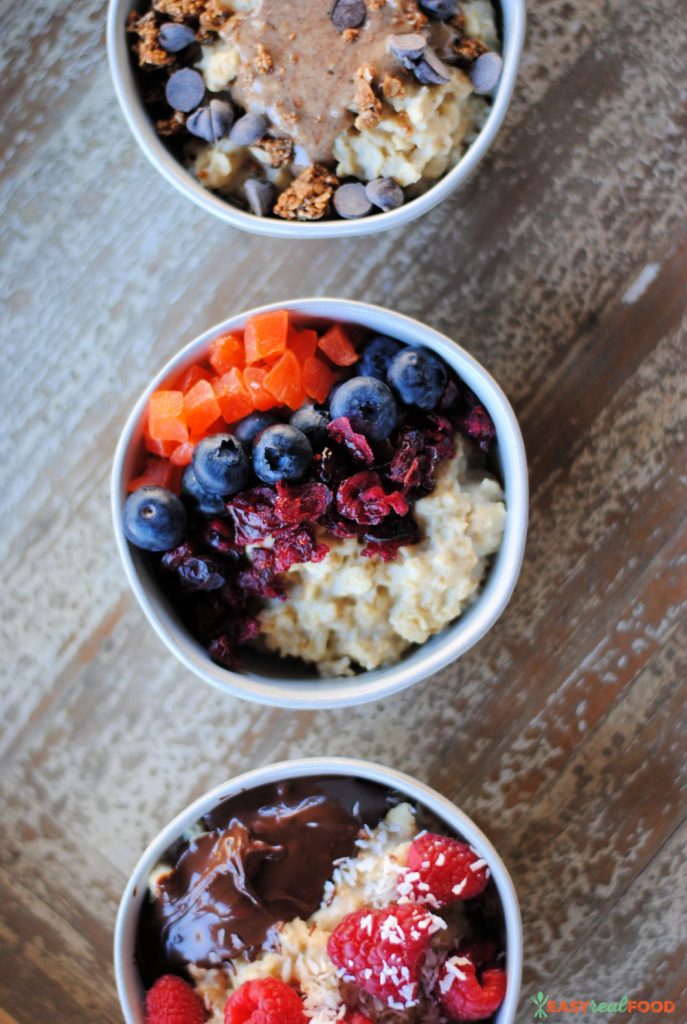 Questions About Easy Instant Pot Oatmeal Recipe
Can you use old fashioned (quick) oats?
For the following recipe, I do not recommend using quick oats as they cook much quicker and will turn to mush.
How long will prepared oatmeal stay fresh?
Cooked oatmeal will stay fresh for 5 days. Keep it in a closed container in the refrigerator and heat and eat as desired.
Can prepared oatmeal be reheated?
Yes. Prepared oatmeal is easy to reheat in the microwave. I suggest adding a little bit of liquid of choice (non-dairy milk in my case) before heating. Stir when heated, and add more liquid if needed.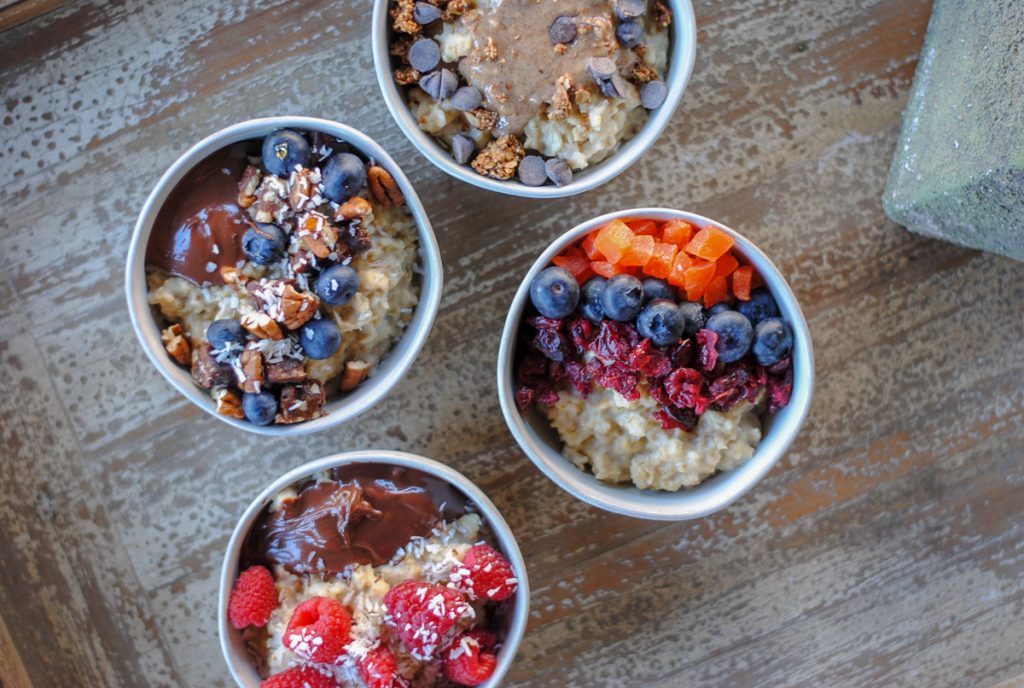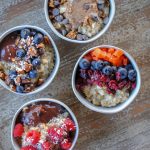 Easy Instant Pot Oatmeal Recipe
Time for pressure to come down
An easy instant pot oatmeal recipe that is an easy make-ahead recipe to cook rolled oats and steel cut oats in a pressure cooker.
Ingredients
2

cups

rolled oats

(use gluten free if needed)

2

cups

water

2

cups

milk

of choice - I use hemp or other non-dairy milk
Instructions
Spray inside of Instant Pot (optional, but I recommend). Add oatmeal, water and dairy-free milk.

Close lid and seal. Press Manual or Pressure Cook button and adjust to 3 minutes.

Once the cooking time ends, allow the oatmeal to sit in the pot and reduce steam for 20 minutes. When done, flip the release valve using the end of a wooden spoon (make sure the valve is facing away from you for safety reasons). Remove lid, stir, and spoon into bowls. Leftovers can be kept for 3-5 days.
Recipe Notes
If using steel cut oats, add 2 more cups of water before cooking.
Nutrition Facts
Easy Instant Pot Oatmeal Recipe
Amount Per Serving
Calories 228
Calories from Fat 63
% Daily Value*
Fat 7g11%
Cholesterol 12mg4%
Sodium 61mg3%
Potassium 308mg9%
Carbohydrates 33g11%
Protein 9g18%
Vitamin A 198IU4%
Calcium 163mg16%
Iron 2mg11%
* Percent Daily Values are based on a 2000 calorie diet.
Other Easy Instant Pot Recipes
Instant Pot Mexican Quinoa Recipe
Easy Instant Pot Chicken Tikka Masala
Easy Instant Pot Chicken and Rice
Instant Pot Carrot Soup (Gluten-Free, Dairy Free)
Cauliflower Soup in the Instant Pot
How to Cook a Whole Chicken in an Instant Pot