Estimated reading time: 3 minutes
Delicious Paleo Dinner Rolls that are both grain-free and vegan. Made with just 7 ingredients, these gluten-free rolls are full of fiber and low in carbs!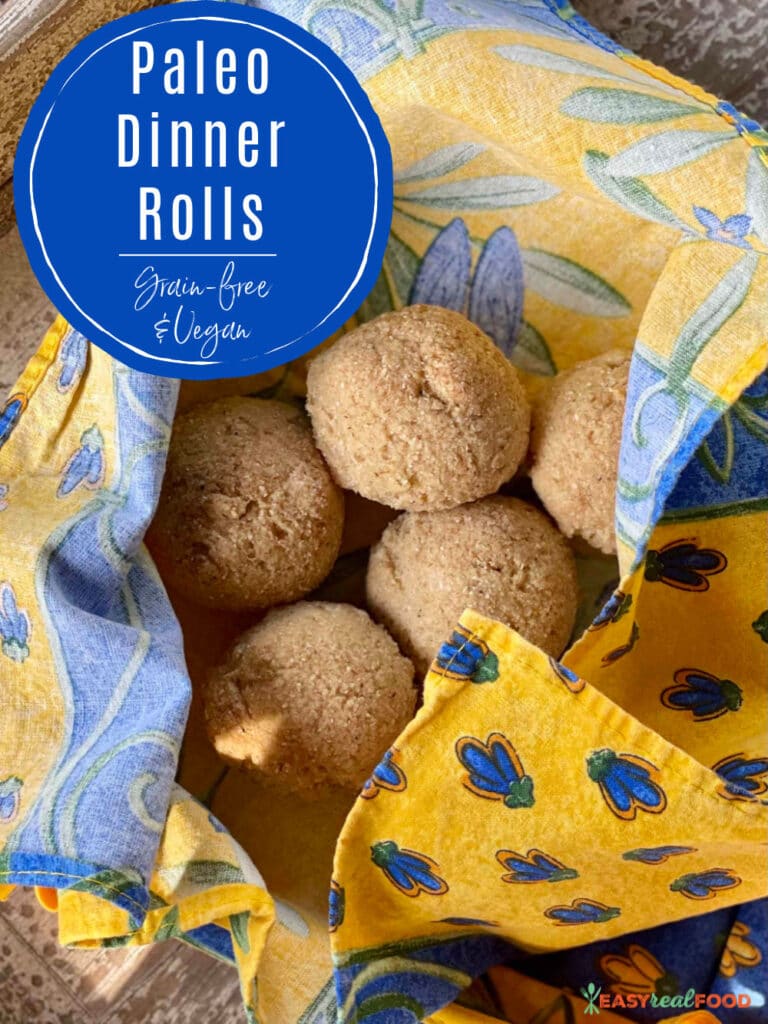 Paleo Dinner Rolls (Grain-free & Vegan)
Ready for a new almond flour recipe? I've got a delicious grain-free roll recipe that will blow your socks off! Seriously—not only are these rolls gluten free, but they are fluffy and this delicious texture that tastes like a "real" roll. If you've tried my Paleo Cassava Bread Recipe (which is one of my most popular recipes) these are totally different. The texture is so bomb, you really need to try it to believe it!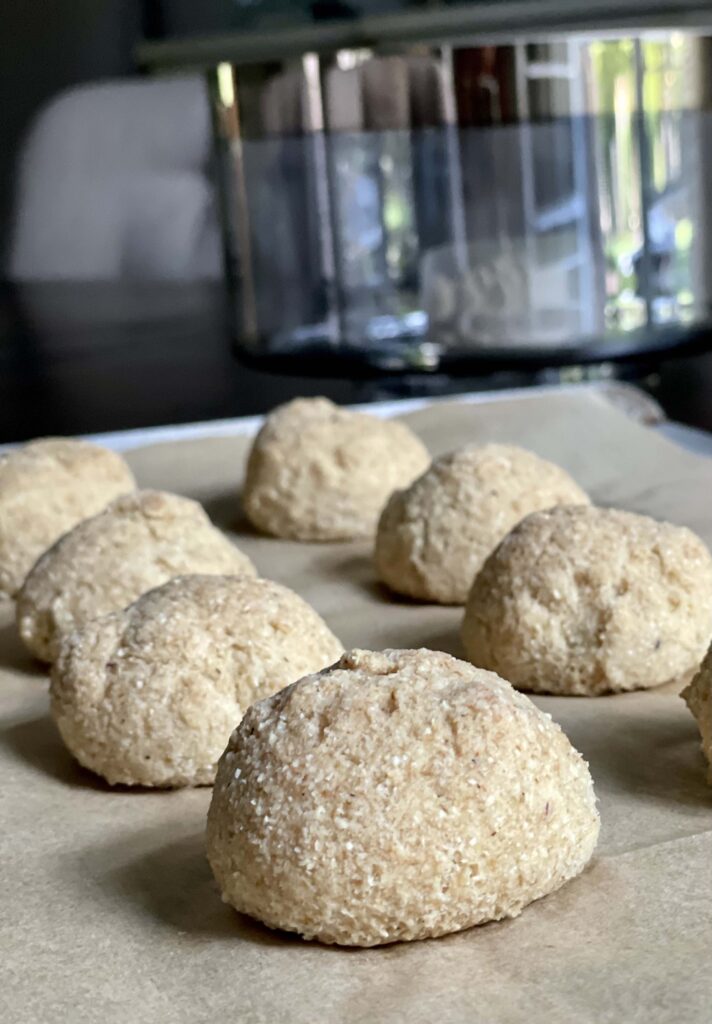 Nutrition for low carb almond flour bread rolls
These rolls are:
grain-free
gluten-free
dairy-free
keto
vegan
full of fiber
made with 6 ingredients
just 63 calories each!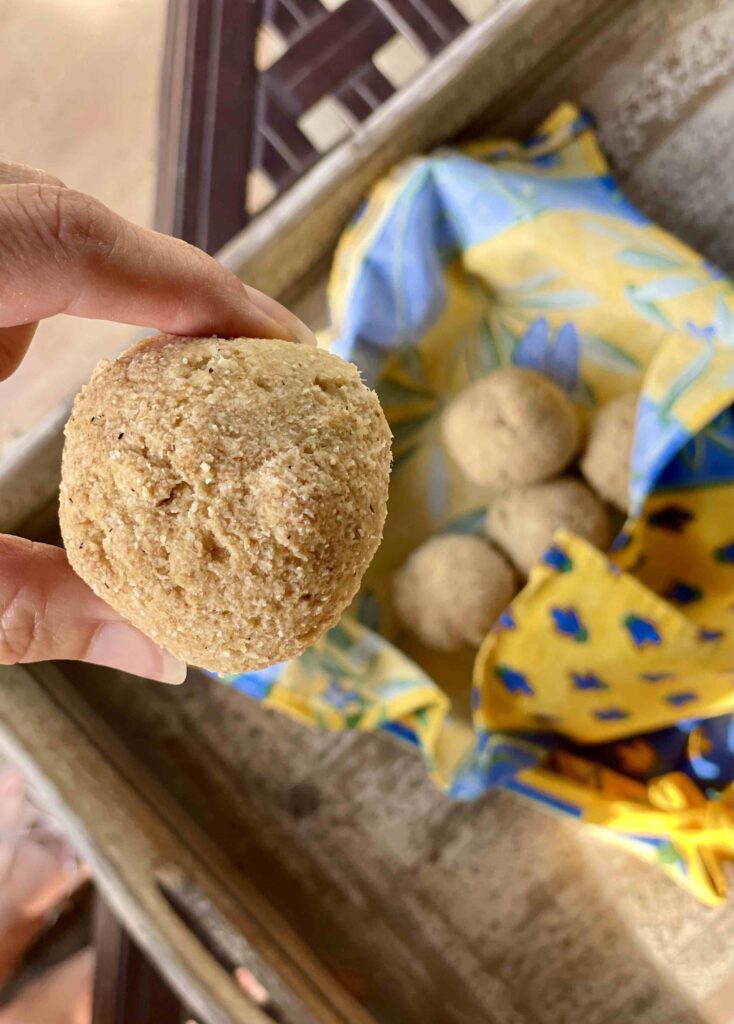 Ingredients for Paleo Dinner Rolls:
Almond flour
Coconut flour
Psyllium husk powder
Baking soda
Salt
Boiling water
Apple cider vinegar
What is psyllium husk powder?
Psyllium husk is a soluble fiber that can support digestive health. It increases the bulk in your stool and is often used for constipation. BUT, it's also used in baking because it can give a bread-like texture. It is extremely absorbent, and therefore may require the right amount of liquid.
The combination of the psyllium husk powder along with the boiling water that is incorporated into the recipe makes for delicious almond flour rolls that seriously taste (texture-wise) like rolls with gluten.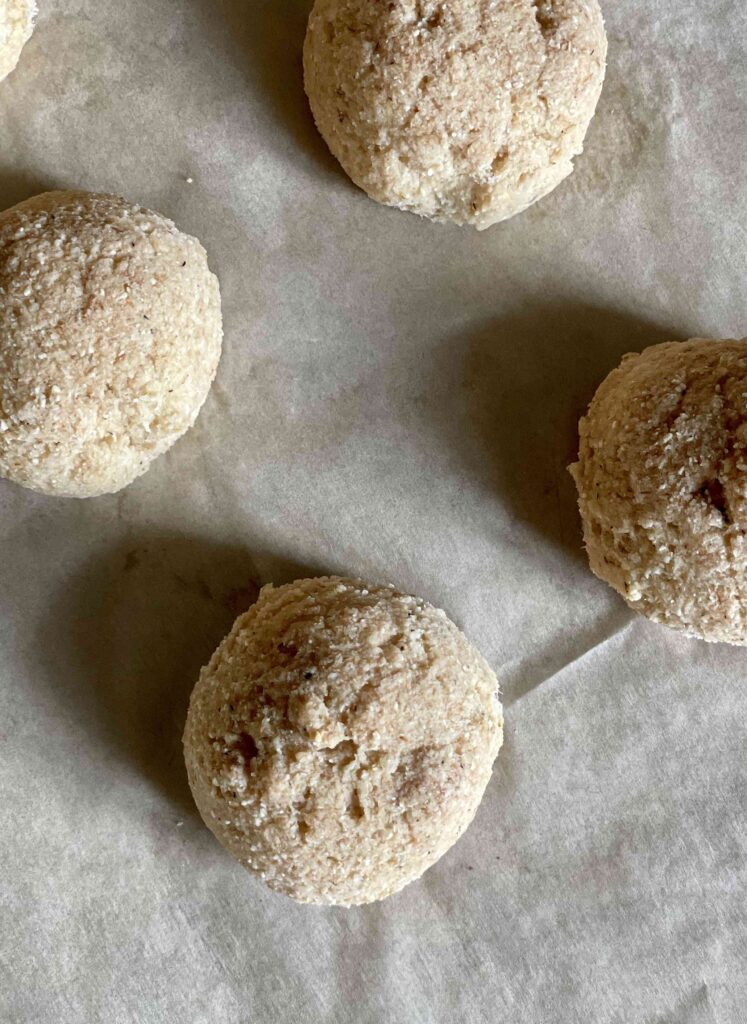 Baking time for the paleo dinner rolls
The baking time may seem long for small rolls, but it is correct. With the combination of grain-free flours and psyllium, baking time is a little longer then normal. Psyllium provides the necessary structure for these rolls to work. If you haven't used it in the past, I think you're going to love it! The longer bake time allows the interiors of the rolls to dry out and transform into bread. Oh, and since I personally hate to purchase an ingredient and not use it in any other recipes, this Grain-Free Nut-Free Bread Recipe also uses psyllium within.
Paleo Dinner Rolls (Grain-free & Vegan)
Delicious Paleo Dinner Rolls that are grain-free & vegan. Made with just 7 ingredients, these gluten-free rolls are full of fiber & low carb!
Instructions
Preheat oven to 350 degrees F. Line a baking sheet with parchment paper.

Add vinegar to mixture. Add boiling water on top and mix to combine.

Let mixture sit for 10 minutes so dough can thicken (it may feel sticky, but after the 10 minutes it should not feel as sticky).

Divide rolls into 8 sections and roll into balls. Place on prepared baking sheet leaving room in-between each-other.

Bake in preheated oven 25-28 minutes. Tops should be getting slightly golden when done.

Remove from oven and let cool on cooling rack.
Nutrition Facts
Paleo Dinner Rolls (Grain-free & Vegan)
Amount Per Serving
Calories 94
Calories from Fat 63
% Daily Value*
Fat 7g11%
Sodium 143mg6%
Potassium 1mg0%
Carbohydrates 6g2%
Protein 3g6%
Calcium 29mg3%
Iron 1mg6%
* Percent Daily Values are based on a 2000 calorie diet.
How to enjoy these keto almond flour bread rolls
With dinner – obviously!
Spread some of your favorite nut butter on top for a delicious throw-back to the good ol' pb&j
Make a sandwich with your favorite fillings
Let me know how you enjoy these! They have been a HUGE game changer for me. I hope you enjoy them! If you make these, please tag me at @easyrealfood!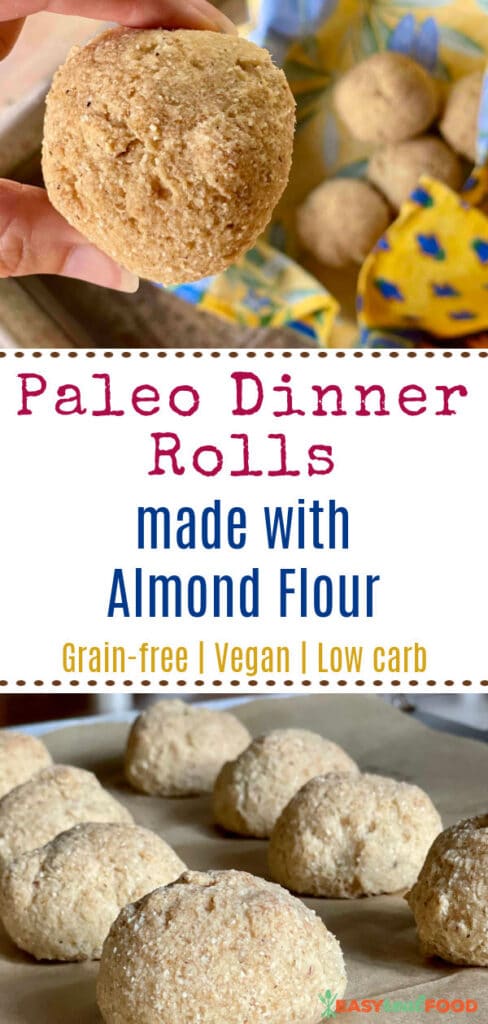 Other recipes I think you'd love!
The Best Gluten Free Bread Recipes
Easy Almond Flour Cake (Keto + Low Carb)
Almond Flour Chocolate Chip Cookies (Grain-free & Vegan)