There's something that I love about a yummy big salad, especially in autumn. So many fall foods are starch-heavy, and I can feel my body asking for an abundance of vegetables. With Thanksgiving and Christmas on the horizon, I wanted to create a wholesome hearty fall salad recipe full of beautiful seasonal ingredients. The end result is this delicious, all-in-one salad, complete with massaged kale that's topped with fall foods, including roasted butternut squash, Brussels sprouts, simple honey glazed pecans, apples, pears and more. It's versatile in the sense that you can add all of these ingredients, or simply a modified version of them. Mix it all together and top it off with the homemade hearty fall salad dressing that I've included below. It's perfect for Friendsgiving, Thanksgiving, Christmas and more.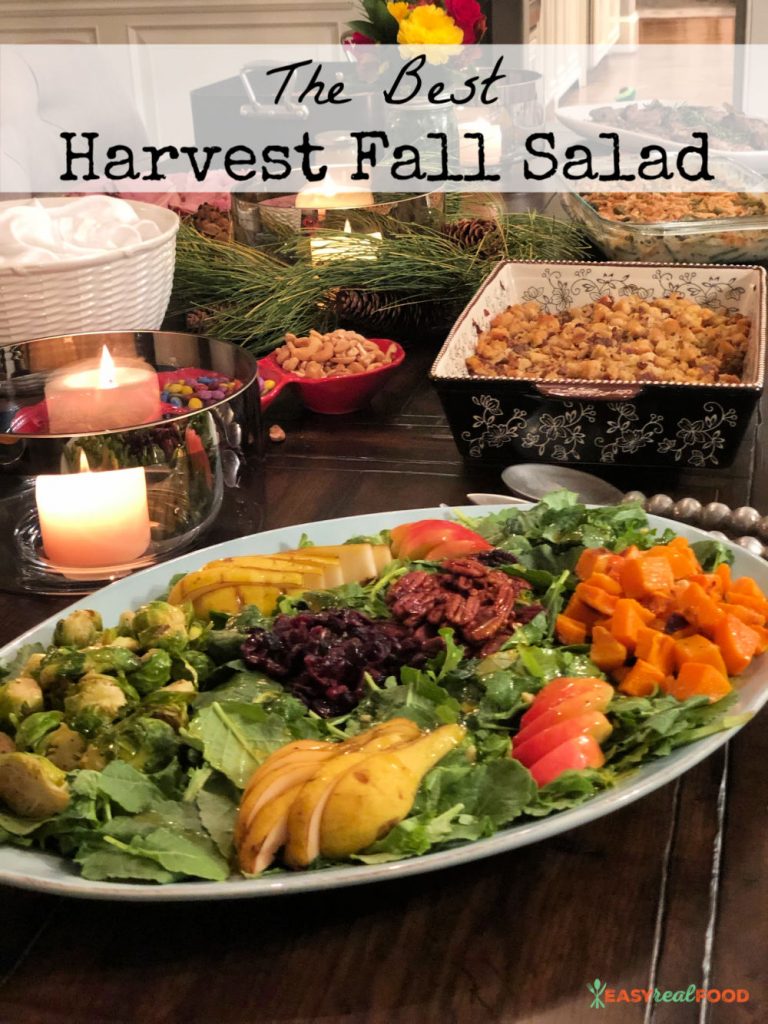 Seasonal ingredients to include in The Best Hearty Fall Salad
Use all of these, or use a modified version of them based on what you have on hand. 
Roasted butternut squash – I like to buy cubed butternut squash at the grocery store because it is such a time saver. Whether you cube it yourself or buy it cut, to roast butternut squash, first preheat the oven to 400 degrees F. Next, link a cookie sheet with parchment paper. Either coat the cubed squash in avocado or coconut oil, or simply spray it with this clean spray. Place prepared squash in the oven and roast for 30-35 minutes, flipping once in the middle.
Dried cranberries – Make sure to get dried cranberries without added sulfer or sugars. I am a fan of the Made in Nature Brand; their dried cranberries are sweetened with apple juice and are organic and non-GMO Project Verified.
Fresh pomegranate seeds – Sometimes dubbed a "superfood", pomegranate seeds are loaded with fiber, protein, Vitamins C and K, Folate and Potassium. They are also said to be anti-inflammatory and may lower blood pressure. But regardless, they are just so gorgeous and tasty – the perfect amount of sweet and crunch for a hearty fall salad.
Roasted Brussels sprouts – Not a necessity, but definitely adds to the heartiness of this salad. Coat your halved Brussels in olive oil, a bit of lemon juice and salt and pepper and roast in the oven at 375 degrees for 20-25 minutes. You can do this ahead of time and serve them cold on the salad.
Fresh avocado – Be sure to add this one last, but don't forget to add it! This is my favorite tool for cutting and using an avocado in any way; it definitely won't disappoint. Avocado brings a beautiful green hue along with those healthy fats we want to make sure to get daily.
Sliced pear – Either red or Bartlett pears will suffice in this salad. I like to add just a touch of lemon juice to the pears to ensure that they don't brown, and place them skin-side up so that in the case that they do brown, it won't be seen, wink wink.
Apple slices – Once again, yellow or red varietals would add a wonderful pop of color. Use the same trick with the lemon juice to help them not brown, and/or slice right before serving.
Honey glazed seeds and nuts  – Not only are these tasty for the salad, but they'll make enough for you to have extras to enjoy on the side, or to save for later. The recipe for simple honey glazed nuts can be used on any nuts or seeds that you'd like, and are sweetened with just honey and without any refined sugars. I used pecans for my salad, but pumpkin seeds or walnuts would also be lovely. Here's a look at the recipe: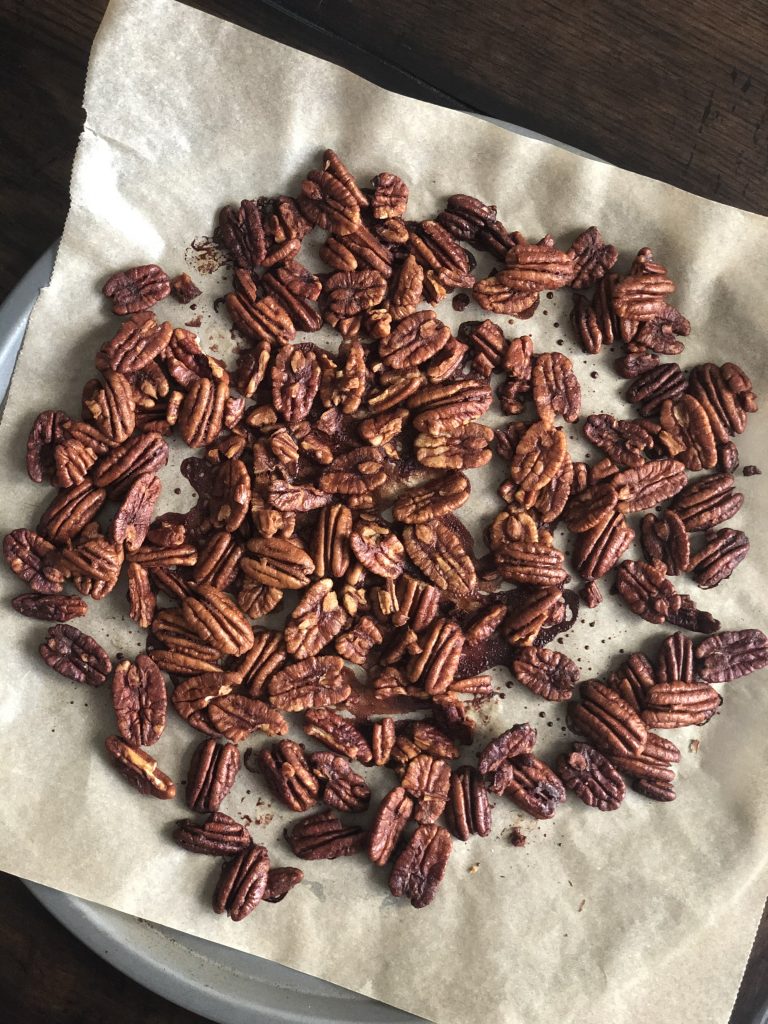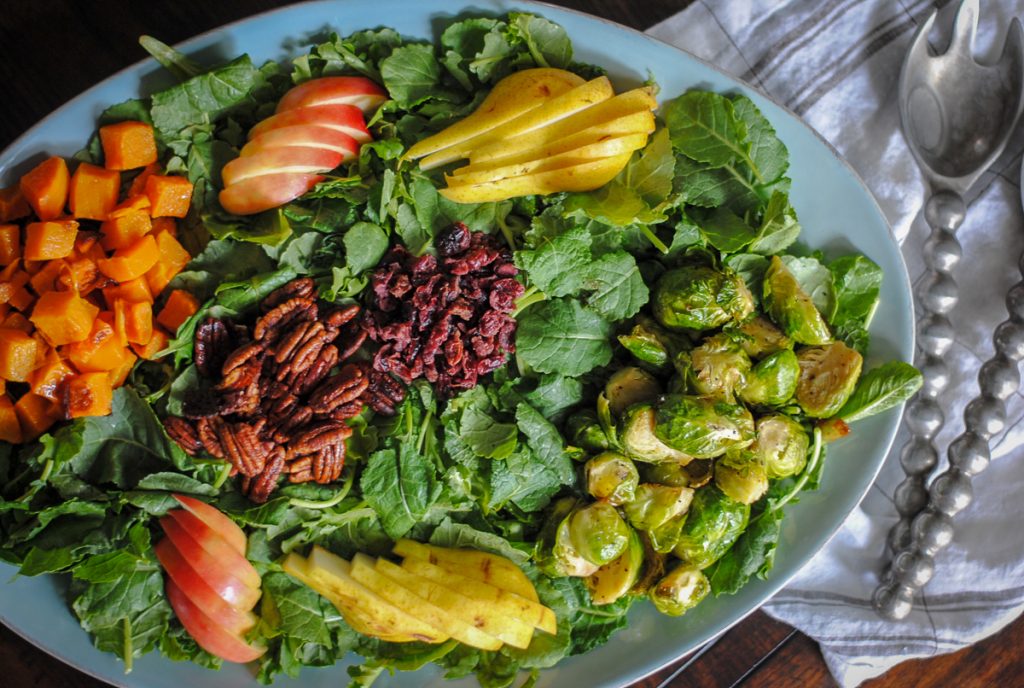 Kale – I used kale in this salad, but you can also use mixed greens, baby spinach or a mix with kale in it. If you are using kale, I highly suggest massaging it prior to using.
Why do you have to massage kale? – Massaging the kale helps to break down the tough cell structure and gives the kale a softer texture that's more appealing in a lot of raw preparations like salads. It is supposedly easier to digest, too. When serving to kids, I find that massaging the kale can be very helpful for your success rate of them eating it:).
How long should I massage the kale? – Pour about 2-3 teaspoons of good quality olive oil on top of the ripped kale leaves. Sprinkle it with some salt, and massage the kale for about 3-4 minutes. The action is similar to kneading dough.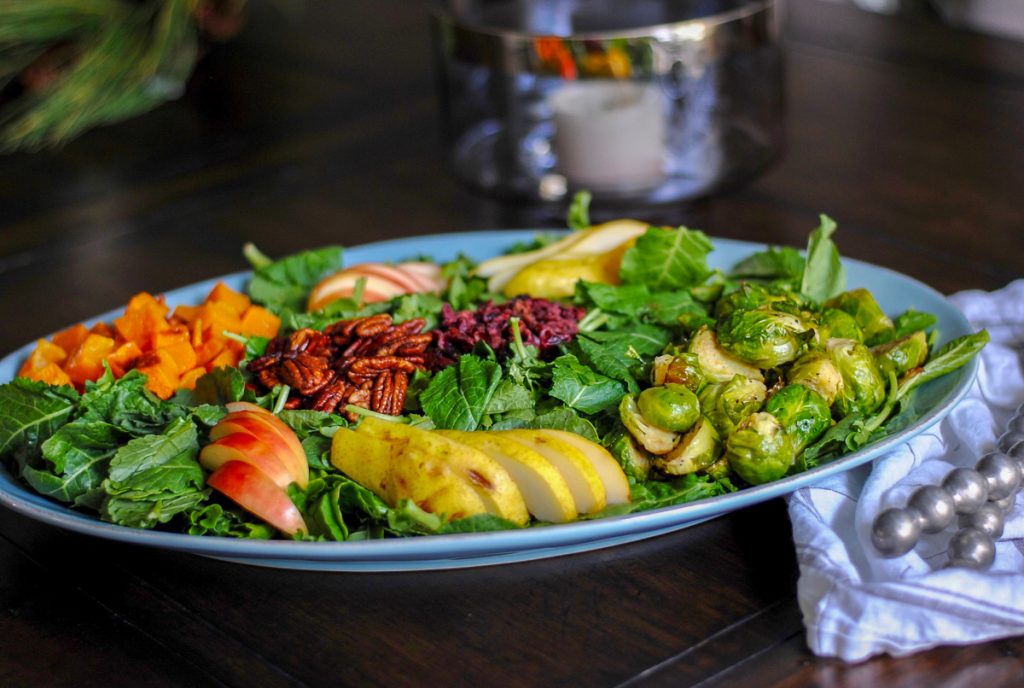 Homemade dressing recipe for the best hearty fall salad
This dressing is simple and quick, and contains no processed ingredients. The  mixture of cinnamon, honey and garlic is the perfect topping to blend these fall vegetables together. I love this salad dressing bottle, as the ball makes it so easy to mix and it both pours and stores well. To make the dressing, simply combine the ingredients listed in the recipe below. One note of caution: if you make the dressing ahead of time and store it in the fridge, you'll need to get it to room temp before using. Either leave it out for an hour or so before using, or run the container under warm water.
Ingredients:
1/4 cup olive oil
2 TBSP red wine vinegar
2 TBSP honey
1 garlic clove, diced
1 tsp mustard
1/2 tsp cinnamon
1/4 tsp salt
1/4 tsp pepper
Shake all ingredients in a jar or a Wiskware Salad Dressing Bottle. Dress salad and serve immediately.
Assembling your salad
I like to assemble salads in sections, as shown in the picture. Often times people don't always want all ingredients in their salad, and this gives people the choice to choose what they want. Alternatively, you can mix it all together and toss before serving. I do think that the former method is also very attractive, but really – either way will taste good!
Dress your salad right before serving and enjoy. This hearty fall salad is a great addition to your homemade Thanksgiving, Christmas, Friendsgiving or any fall lunch or dinner lineup. I'm such a fan of Fall foods, that we have been making different variations all season. I've got a whole host of other fall foods if you're also a fan of the season. I hope you enjoy this fall salad and these other recipes, too!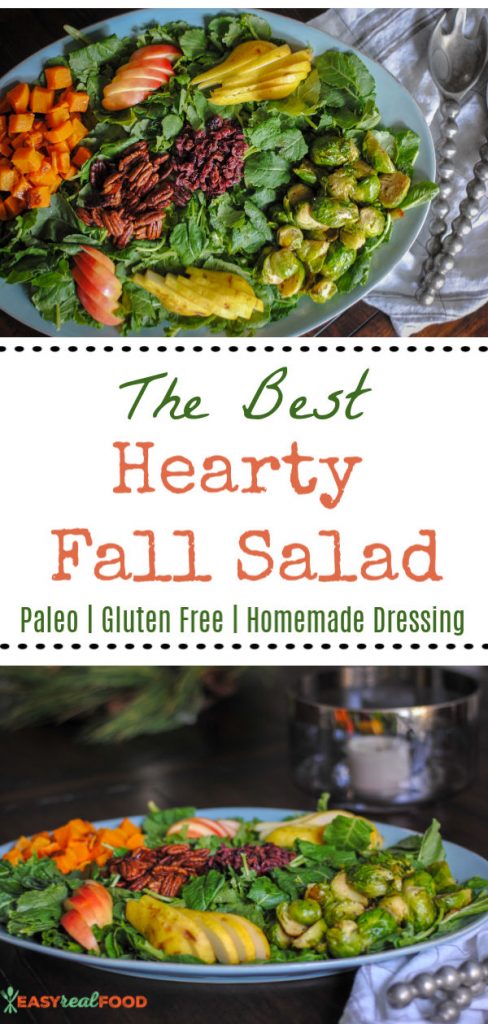 Fall recipes, pumpkin recipes and Thanksgiving ideas
How to Build a Fall Board with Trader Joe's Products
Healthy Pumpkin Brownies (Gluten Free)
Fluffy Grain-Free Pumpkin Waffles
A Family Thanksgiving: How to Get the Kids Involved
Paleo Pumpkin Bread with Coconut Flour