Estimated reading time: 7 minutes
Are you frustrated with inflammation? Looking for smoothies for arthritis and inflammation? Or just looking for a solid nutritious breakfast or lunch? This green smoothie is full of lots of healthy green foods, anti-inflammatory foods and fiber to boot. Here's my daily anti-inflammatory smoothie recipe.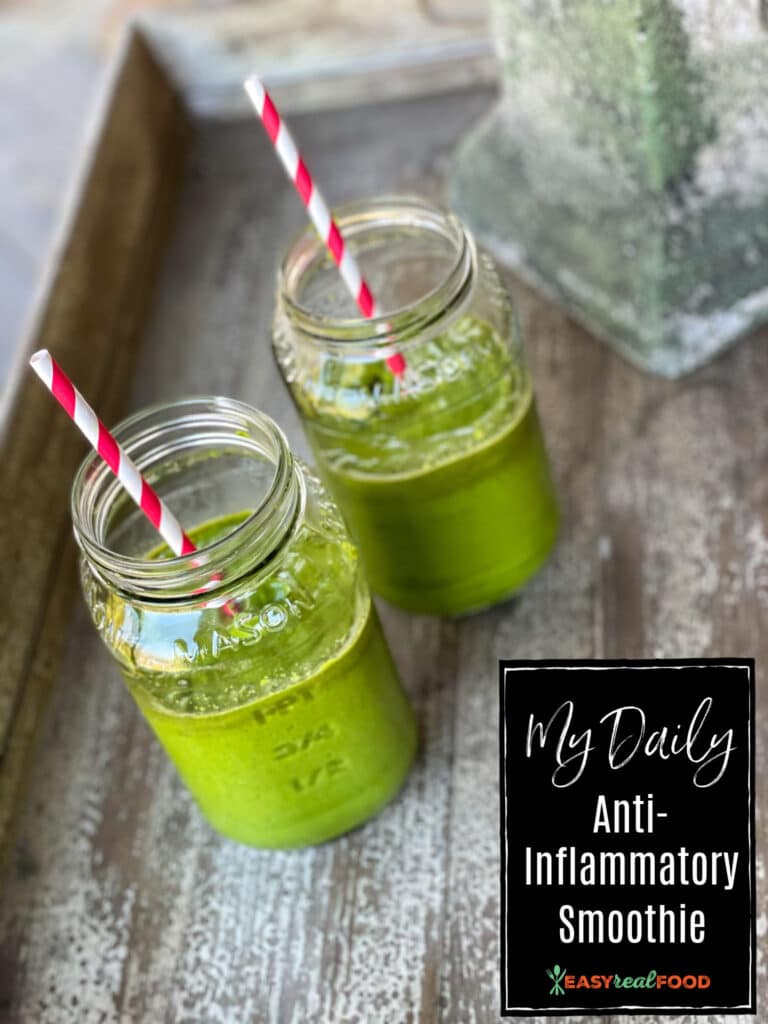 Daily Anti-Inflammatory Smoothie
This smoothie has been a long time coming. And there's definitely a back story – so let me begin: if you know any part of my story, you know that I have battled inflammation for years. I have been hypothyroid for years but am controlled with medication. I have Rheumatoid Arthritis, and I also STILL have Mast Cell Activation Syndrome. I know – total drag. I had my breast implants removed last year to try to decrease inflammation, and for a while I felt good. Until early 2021 when I got Covid.
Getting sick with Covid sent my body into an inflammatory firestorm. Looking back, the day of exposure started causing extreme stomach pain. This led to erosive gastritis, diagnosed from an endoscopy. I had had it. My stomach hurt, I could barely eat anything "good" and I knew I needed a reset. I vowed to do three weeks of making this smoothie to ensure I was getting good, quality ingredients that were balanced with healthy fats and protein, while crowding out other "not so great" foods. I'm happy to say that I've been sailing right along with this, and I'm already recommending it to some of my health coaching clients!
What smoothie is good for inflammation?
So truth be told, many green smoothies can be good for fighting inflammation. The problem arises when too many fruits or added sweeteners are put into the smoothie recipe. Yes, fruits provide natural sugars – but I'm a true believer that sugar is sugar, regardless of the form. And if inflammation is something that you are battling, sugar or sweeteners are something you need to avoid.
This recipe incorporates a number of foods that have been found to target inflammation. I've included a write-up on why I've included each one below.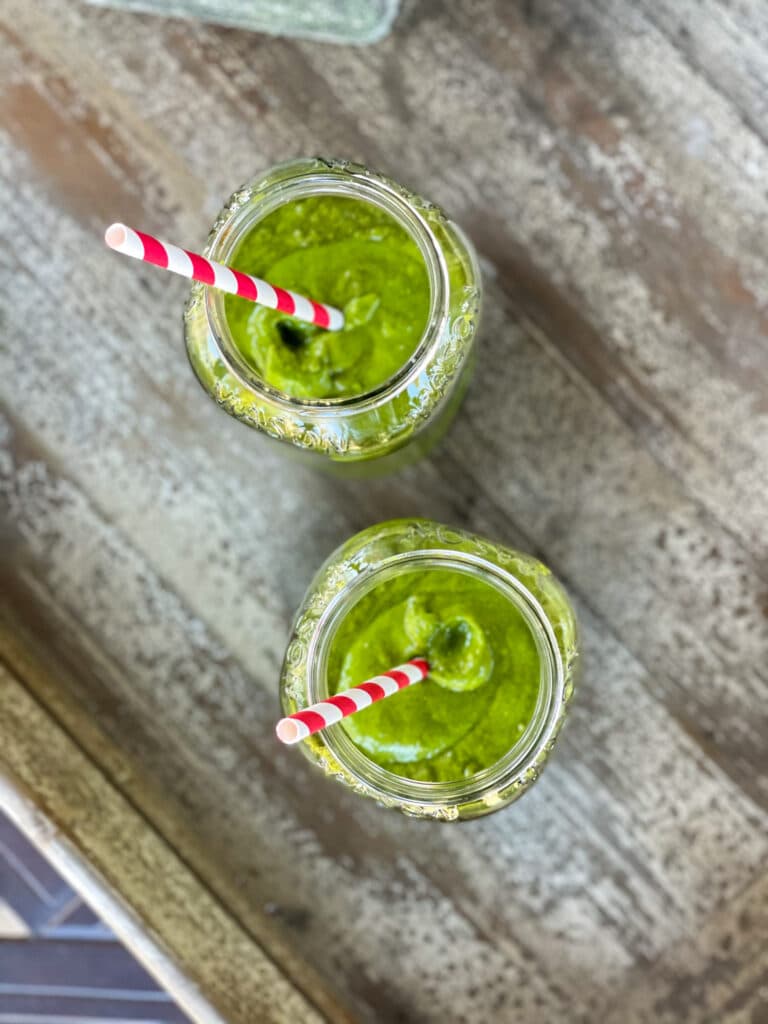 Ingredients for my favorite anti-inflammatory smoothie + why they are included:
Spinach: Spinach is one of the best known anti-inflammatory foods. In addition, this superfood gives you iron, vitamin K, and folate, and it is very low in calories. But my purpose in adding it was also to ensure I was getting in lots of greens in one day.
Kale: leafy greens that are high in natural antioxidants and polyphenols—protective compounds found in plants—are also extremely beneficial in battling inflammation. In addition, kale is high in vitamins A, K, C and Manganese.
Parsley: Rich in Vitamins A, K and C as well, parsley serves up a strong dose of antioxidants. In addition, it also may contain anti-bacterial properties.
Avocado: Avocados are rich in heart-healthy monounsaturated fats and are an excellent source of magnesium, fiber, and potassium. Eating half an avocado adds to your daily intake of vitamins C, A, E, and B-complex vitamins. The nutrients and antioxidants can be a healthy addition to an anti-inflammatory diet.
Blueberries: Blueberries are one of the best known anti-inflammatory foods. Make sure to get organic and/or wild blueberries to get the most benefit. On some days, I'll swap out blueberries for frozen pineapple for a slight change.
Ginger: This natural root/rhizome has so many healing properties. This Science Direct article illustrates clinical trials that demonstrate compelling evidence for ginger's anti-inflammatory properties and potential use as a treatment for a variety of inflammatory diseases.
Turmeric: "Turmeric, a spice that has long been recognized for its medicinal properties, has received interest from both the medical/scientific world and from culinary enthusiasts, as it is the major source of the polyphenol curcumin. It aids in the management of oxidative and inflammatory conditions, metabolic syndrome, arthritis, anxiety, and hyperlipidemia." (source) Make sure to get organic as well to avoid any pesticides/chemicals.
Pumpkin Seeds: Another food high in antioxidants, pumpkin seeds offer plant-based protein and healthy fats as well as being a fighter of inflammation. I make sure to add these for those benefits, but also for the satiating factor. Sometimes I'll do 1/2 pumpkin seeds and 1/2 sunflower seeds to vary it up.
Ground Flax Seed: Honestly, I added the ground flax seed to add some fiber but turns out it's also a very powerful inflammatory food!!
Bananas: I add one of these to the recipe to keep things creamy, and it's truly the only source of any sweetness aside from the blueberries. That said, bananas are plant-based, a positive in fighting inflammation. I like to use a frozen banana to really make a good, creamy, cold smoothie.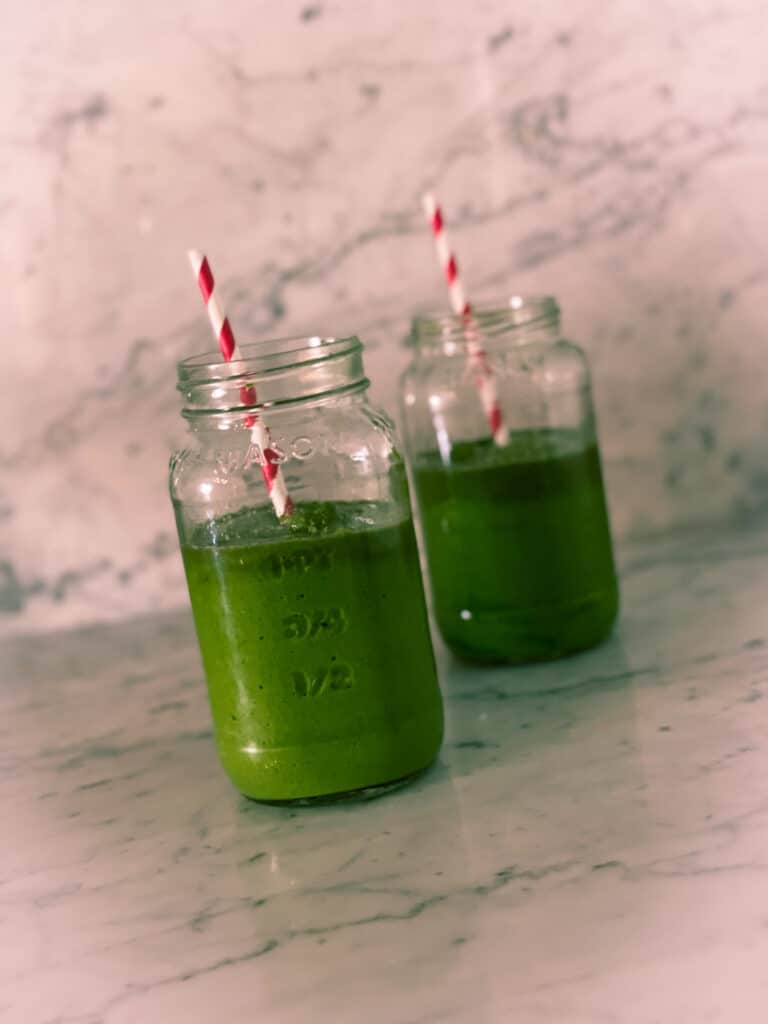 Tips for making this anti-inflammatory smoothie:
Freeze your bananas and avocados ahead of time for ease and additional creaminess. In addition, this prolongs the life of what could potentially be shorter for bananas and avocados. I'll buy a bunch of both on the weekend and not worry about them going bad since they are frozen.
I highly recommend a high-speed blender like a Vitamix or Blendtec. Make the investment once and use it plenty of times over the years, such as with these blender muffins or even in making soup. I've had my Vitamix for 8 years now and it still works like a charm!
Since sugar is an inflammatory food, I don't include anything sweet aside from the 1 banana. Try to adjust your taste buds to not having sugar vs. adding additional sweeteners.
I like storing these in an insulated cup such as this one. Splurge and get the straw lid – it's worth it!  I'll drink this throughout the morning and afternoon but also eat some nuts here and there to make sure I get my digestive juices flowing with the action of eating.
If you are looking for a variety, feel free to swap out the blueberries with another fruit – just watch the sweetness. I sometimes do pineapple in lieu of the blueberries since it's full of antioxidants and is a good detoxifier.
When choosing your dairy-free milk, be leery of added gums such as carrageenan, as these can be irritating to some. Malk is a very clean almond milk made with just 3 ingredients. I personally use this coconut milk – and yes there is guar gum and xanthan gum, but they do not bother me.
Don't get discouraged by the calorie count. Calories really come down to quality and this smoothie is full of good qualities!!!
Smoothies for arthritis and inflammation
Though my Rheumatoid Arthritis is fairly managed, I am still mindful of eating the best foods to reduce joint pain and inflammation. This smoothie's ingredients fits the bill in avoiding potentially problematic foods and crowding them out with what are said to be beneficial foods.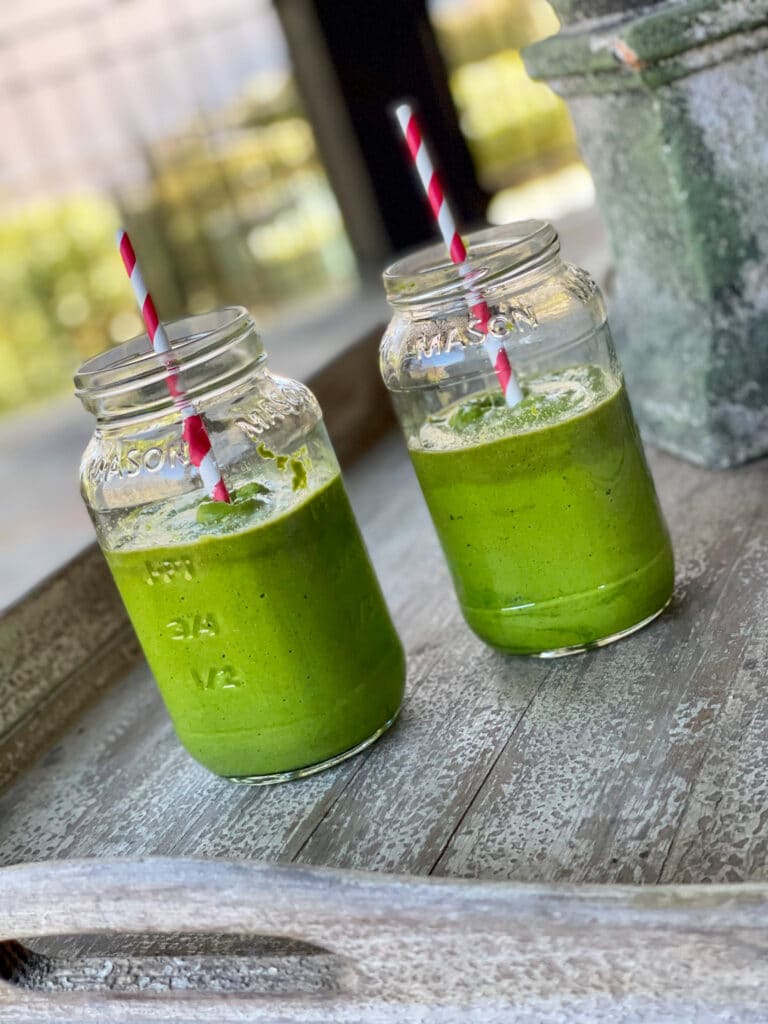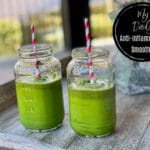 My Daily Anti-Inflammatory Smoothie
This green smoothie is full of lots of healthy green foods, anti-inflammatory foods and fiber to boot.
Course:
Breakfast, Lunch, Snack
Ingredients
2

cups

spinach

2

cups

kale

1/2

cup

parsley

1

cup

dairy-free milk

1

avocado

1

banana

4

tbsp

ground flax seed

1

cup

blueberries

1

1" knob

ginger

1

1" knob

turmeric

1/4

cup

pumpkin seeds

1/2

cup

water
Instructions
In a high speed blender, add greens, parsley and dairy-free milk. Blend until fully combined.

Add remaining ingredients to blender and blend until smooth. Smoothie will be thick. If you prefer thinner, add additional water or milk to thin to your liking.
Nutrition Facts
My Daily Anti-Inflammatory Smoothie
Amount Per Serving
Calories 506
Calories from Fat 297
% Daily Value*
Fat 33g51%
Sodium 157mg7%
Potassium 1528mg44%
Carbohydrates 49g16%
Protein 12g24%
Vitamin A 10996IU220%
Vitamin C 132mg160%
Calcium 212mg21%
Iron 5mg28%
* Percent Daily Values are based on a 2000 calorie diet.
So there you go. I have to say that I've been drinking this now for a few weeks, and as someone who did NOT like smoothies, I've really been turned on to a new way of thinking.
Here's the thing – not only are you getting in a whole bunch of anti-inflammatory foods, but I also figure that if all else fails in my day … at least I've had a solid dose of lots of greens and real foods!! When I started doing this, I committed to doing Monday-Friday and "giving the weekends off", but after the first 5 days, I realized that I was feeling so good that I didn't want to stop over the weekend.
Anyhow – bottom line, I'd love to hear if you try this and how this works for you. I'm hopeful that this can be as successful for you as it has been for me! I noticed lots of increased energy and just an overall feeling of feeling good. How about you? How has this worked for you? Oh and before I leave you …
Other smoothies + healthy resources: