Estimated reading time: 11 minutes
The best 16 healthy Trader Joe's frozen foods. Includes gluten free frozen items, grain free choices, and other healthy options from Trader Joes.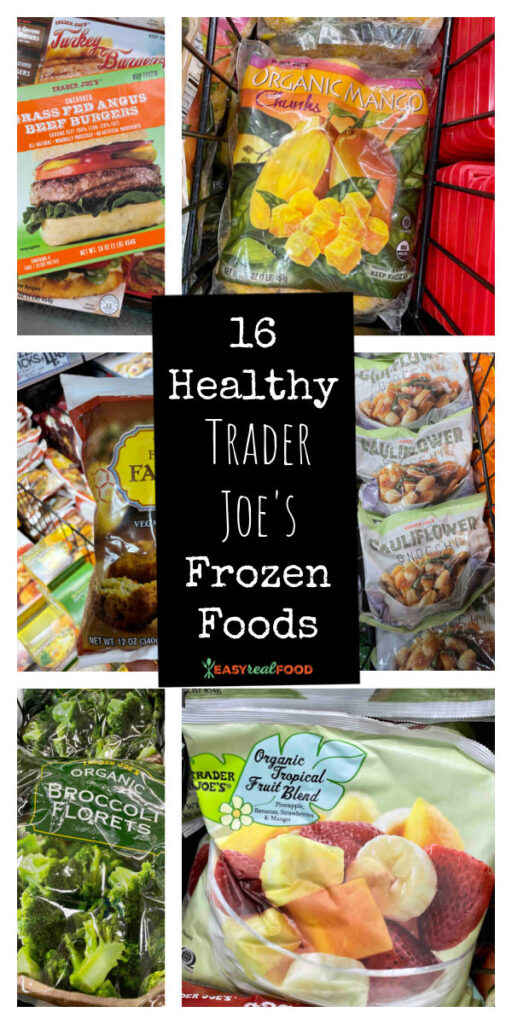 Healthy Trader Joe's Frozen Foods
Many of you know that I'm a huge fan of this store. There's something so fun about walking around and perusing the aisles … but sometimes the best knowledge of what's in store is from talking with others. That's my hope with this post: I hope that you can discover some new items you may not have heard of. Read on and let me know which of these are your favorite, or what other items I've missed!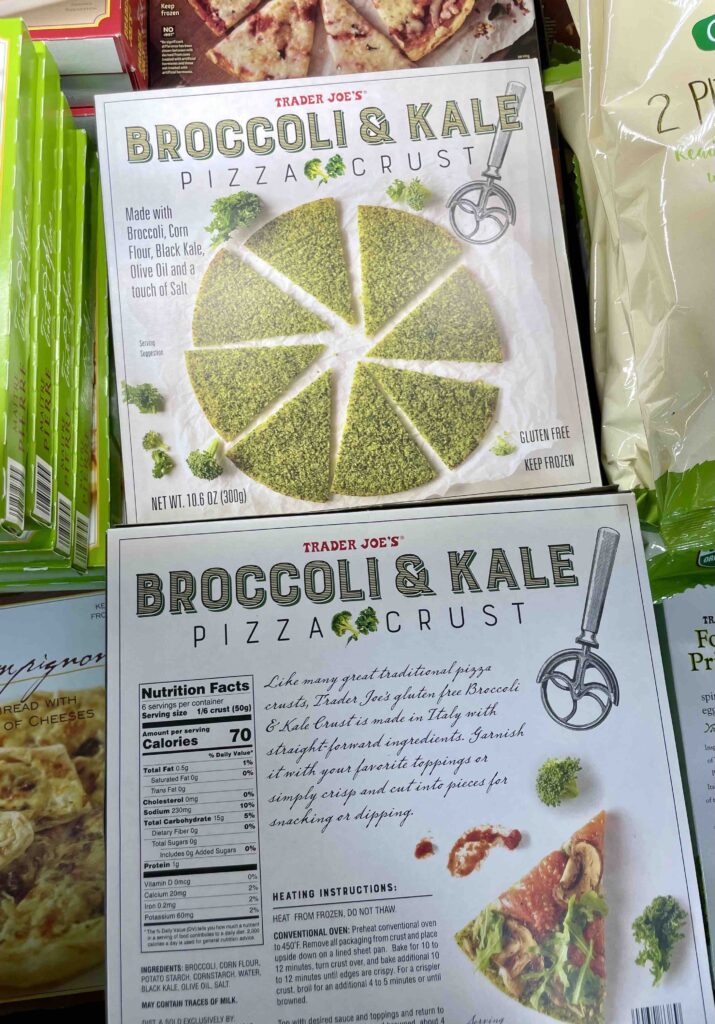 Trader Joe's Broccoli & Kale Pizza Crust
This grain-free pizza crust (unless you consider corn a grain) is made with broccoli, corn flour, potato starch, cornstarch, water, black kale, olive oil and salt. It's basically a blank slate with what to create a pizza on … and I personally love how the crust has no cheese in it, as many grain-free crusts do. Top off this crust with your desired toppings and know that you're getting some vegetables in in the base, too.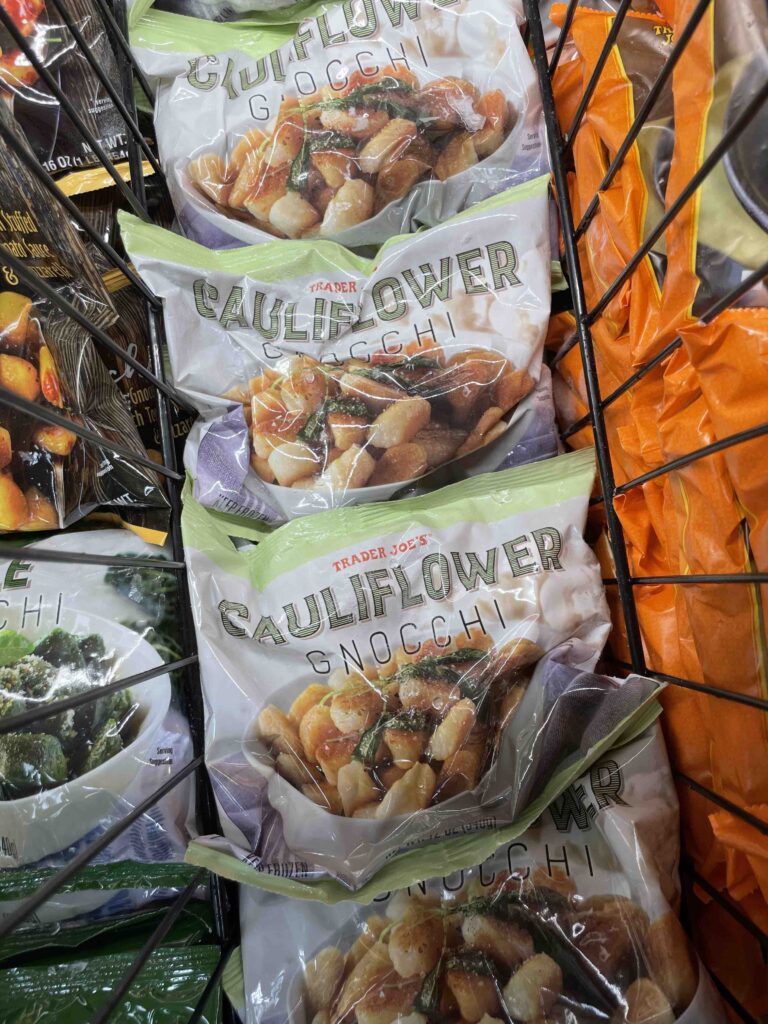 Trader Joe's Cauliflower Gnocchi
Hands down one of my favorite Trader Joe's items, there's literally never a time when I don't have a bag of this in my freezer. Made with just 5 ingredients, this gnocchi is not only gluten-free, it's also grain-free, high in fiber and lower in carbs than traditional gnocchi. Make it quickly in the microwave in a pinch, but it gets nice and crispy when baked in the over or the air-fryer. Serve this up with butter and fresh sage, simply with marinara sauce or by dusting it with sugar and cinnamon and then air-frying it for a sweet, cinnabun-like experience.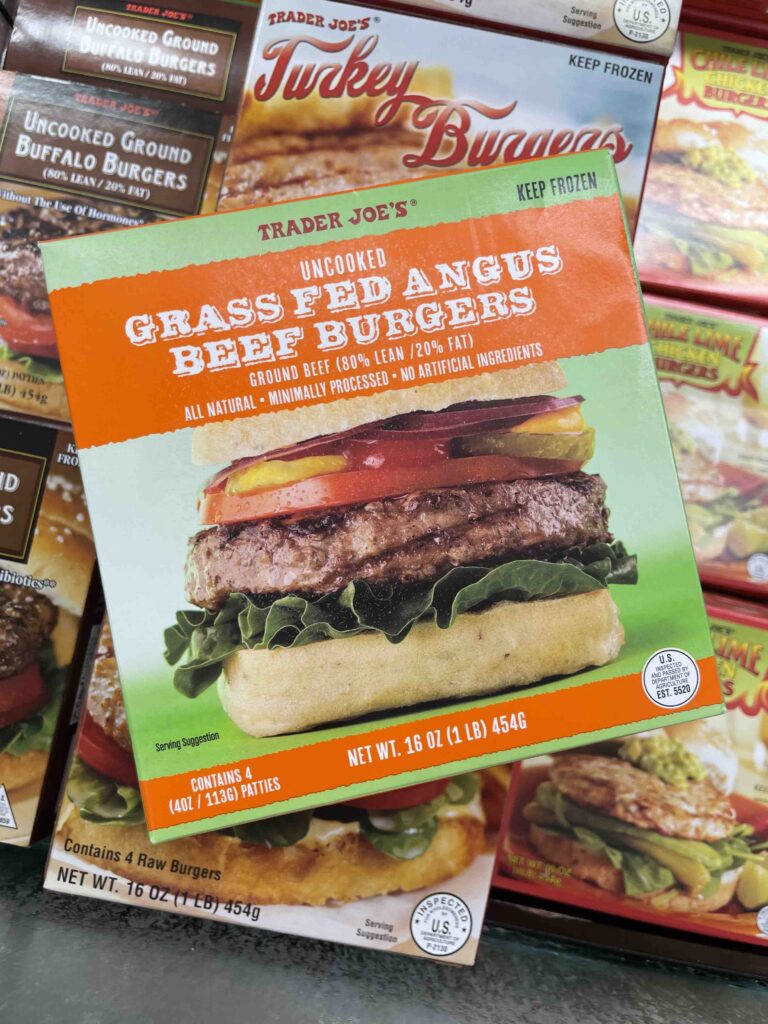 Grass Fed Angus Beef Burgers from Trader Joe's
Grass fed is a label I always look for in burgers that I purchase. I like how this come in a pack of just 4 patties, and you can essentially take out one at a time. I also love the fact that there is just one ingredient in these. At $1.75/burger, I feel like the price is fair for the product at hand.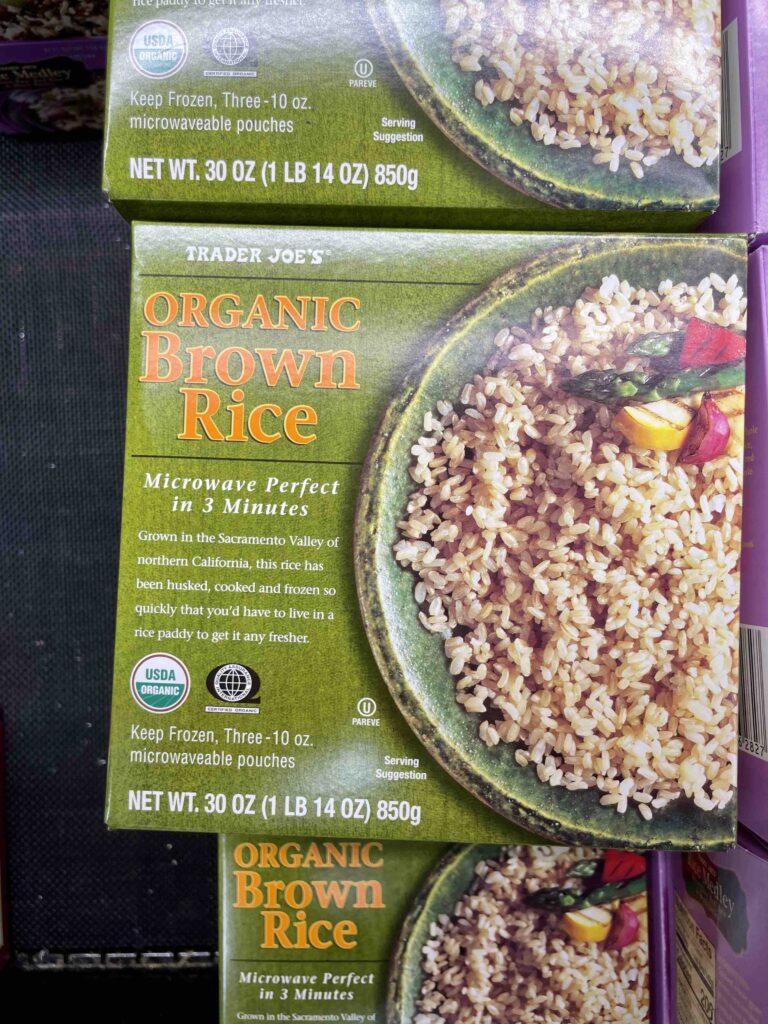 Trader Joe's Organic Brown Rice
Another staple that I always have on hand, Trader Joe's frozen organic brown rice is perfect for days when you want rice but don't have the extra time to cook it. Or you don't want the mess. Or the water spilling over the edge of the pot when you're cooking rice and requiring added cleanup. You get the picture!
I like to pull this out when I'm making grain bowls or even an easy stir fry. Or it's wonderful to serve with this Instant Pot Tikka Masala. Simple and clean, this is a definite staple to keep on hand!
Organic Riced Cauliflower from Trader Joe's
For those who follow a grain-free diet or don't do much rice, or for those who like variety—this riced cauliflower is a super buy. I like making fried "rice" with this or even throwing it into smoothies for an additional boost that doesn't add taste. Shhhh! Don't tell the kids—they'll never know!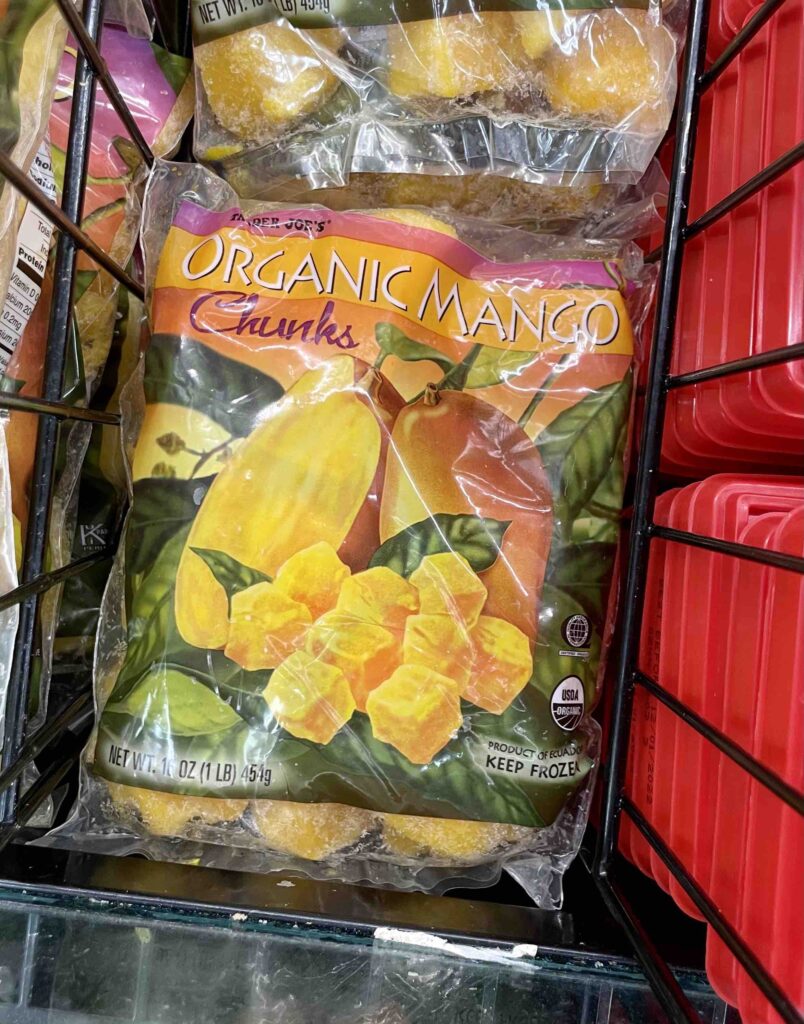 Trader Joe's Organic Mango Chunks
My kids LOVE having frozen fruit on hand, and I love when my kids eat fruit and vegetables. Total win! They'll bust this out and eat it plain (frozen) or even throw it into the Nutribullet with some frozen strawberries and dairy-free milk for a delicious smoothie. They'll even choose this for dessert here and there which I'm totally fine with. One ingredient foods like this are a yes in my book!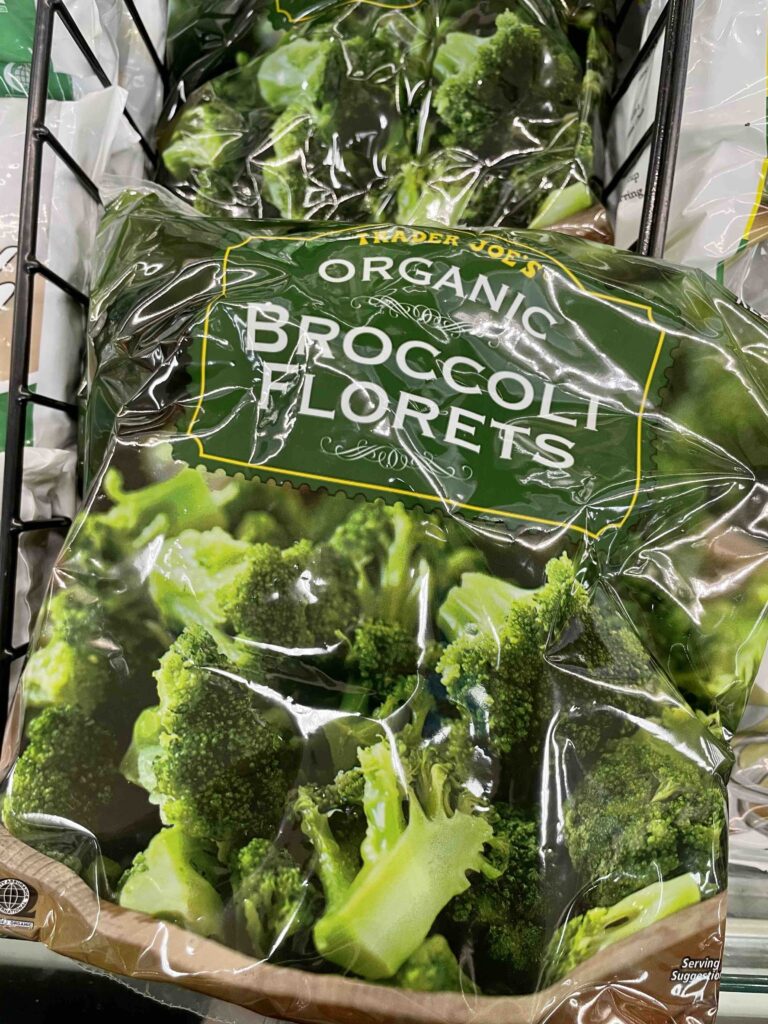 Trader Joe's Organic Frozen Broccoli Florets
Sure I love fresh broccoli, but honestly, sometimes frozen just works easily. I keep this on hand for busy nights when I may not have a side vegetable to serve. I also love to throw it into smoothies as it doesn't taste like much and adds so much nutritional value to it.
For a simple meal idea, cook up some of the cauliflower gnocchi (above) with these broccoli florets, top it with marinara and add some hemp seeds to the top. Yum!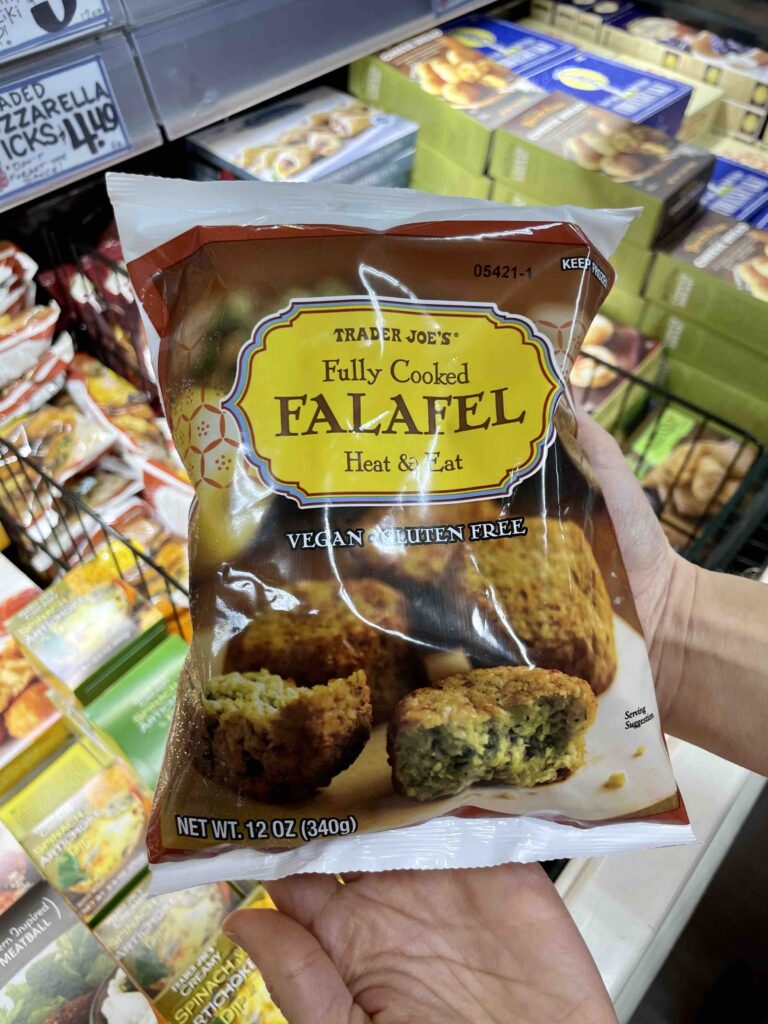 Trader Joe's Fully Cooked Falafel
Both vegan and gluten free, these are another convenient staple to have on hand. Throw them into a wrap, serve them atop of a salad, or even simply dip them as a snack. Love that these have 6 grams of fiber per serving!
A few tips: to keep them from tasting dry, cover them with a damp paper towel when heating. And to serve with an easy tahini sauce, mix tahini, lemon juice, garlic powder, water and salt to your liking. Kids may enjoy dipping them in ketchup:).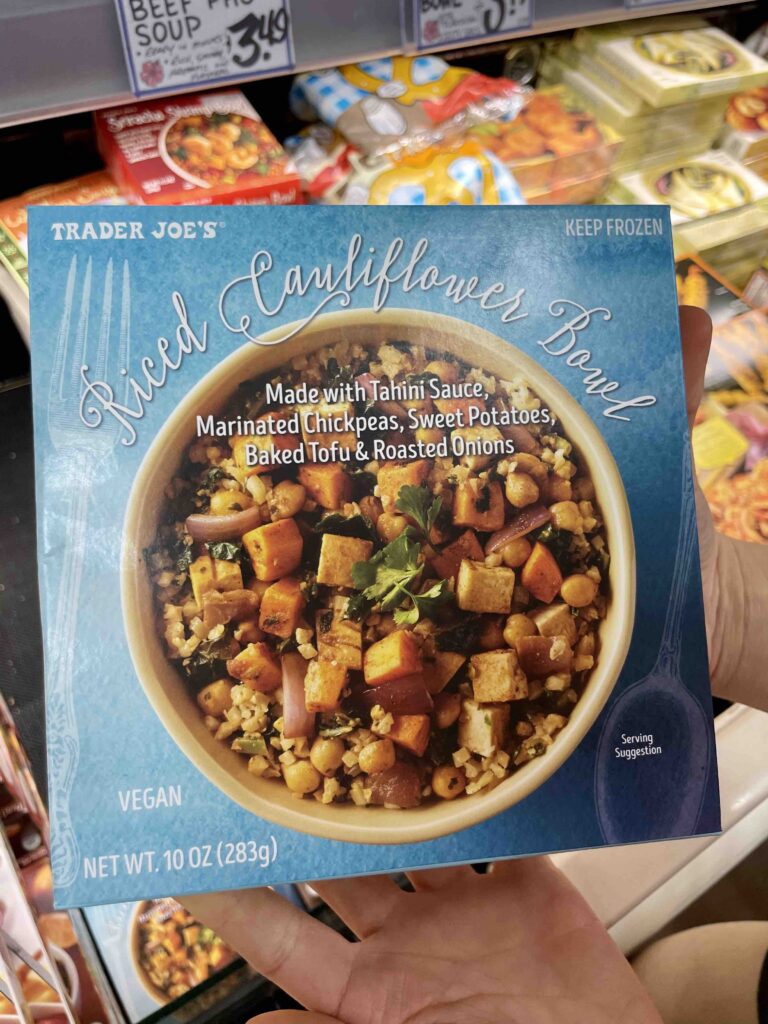 Trader Joe's Riced Cauliflower Bowl
My 17 year-old actually brought this TJ's product to my attention. After taking a look at the ingredients, I gave it the thumbs up. Once again, this is "in a pinch" product, but we all know that happens.
This bowl has a base of riced cauliflower (duh) which is topped with chopped sweet potatoes, red onions, tofu, chickpeas and then some sambal oelek red chili paste and tahini sauce. It's a burst of flavors atop a multitude of shapes and textures—quite the flavor explosion, I must say! I definitely say this is a try and see if you like. Let me know in the comments what you think!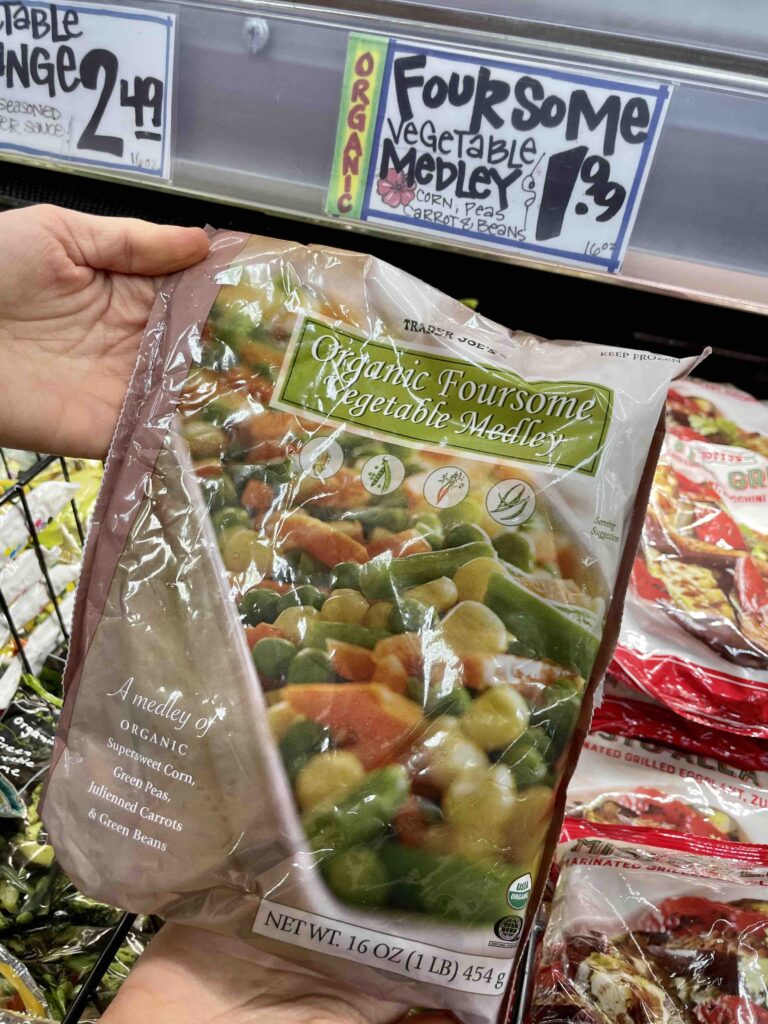 Trader Joe's Organic Frozen Foursome Vegetable Medley
Low sodium
Low saturated fat
High fiber
High vitamin A
Low cholesterol
This is an oldie but goodie. My kids used to eat these frozen when they were toddlers (they loved them). I'd also sneak these into pasta and marinara sauce for them, which they loved. They may be simple, but they are a solid staple to keep handy.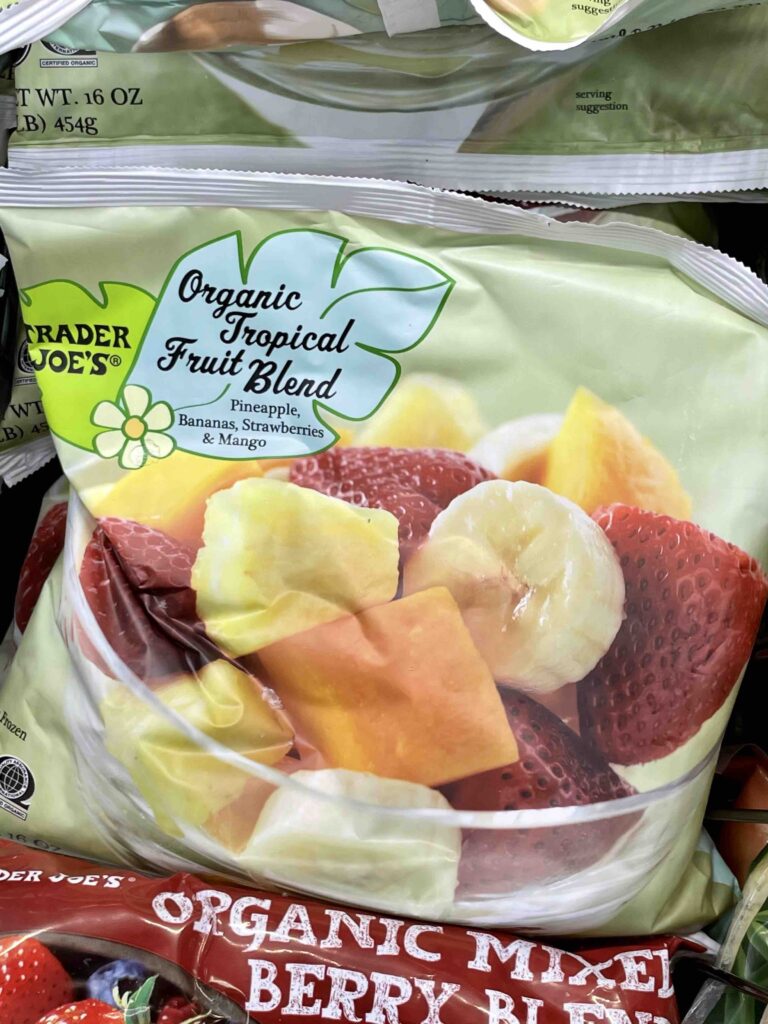 Trader Joe's Organic Frozen Tropical Fruit Blend
A frozen combo of pineapple, bananas, strawberries and mango, this is another frozen mixture I often have in my cart. High in vitamins A & C, this spells summertime and is a perfect addition to smoothies. With no cholesterol, super low sodium and minimal processing, it's another easy go-to for a fruit-based dessert. Just a word to the wise: don't let it thaw. The bananas are not pretty once defrosted!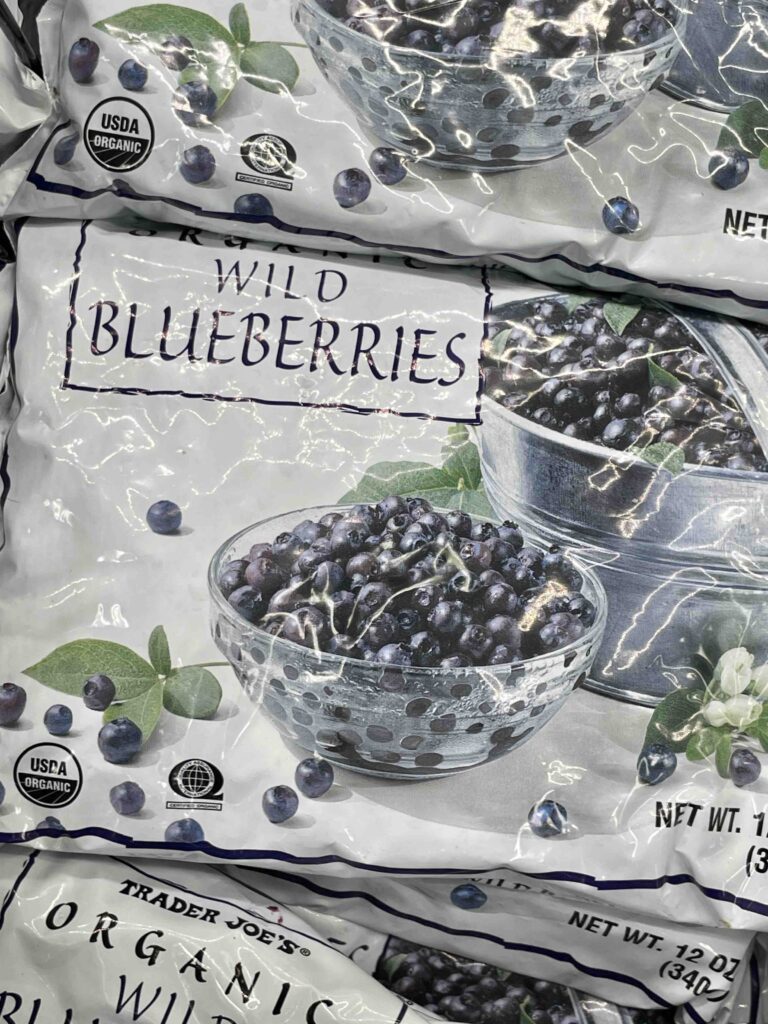 Trader Joe's Organic Frozen Wild Blueberries
Many people know that blueberries have been touted as one of the best foods to eat. They are full of antioxidants (which can help strengthen your immune system and prevent health problems such as heart disease, cancer and arthritis) and are high in Vitamin A and fiber. Plus at $3.49 for 12 ounces, your wallet will thank you!
Use these in this anti-inflammatory smoothie, atop a bowl of oatmeal, or even in these delicious grain-free blueberry muffins.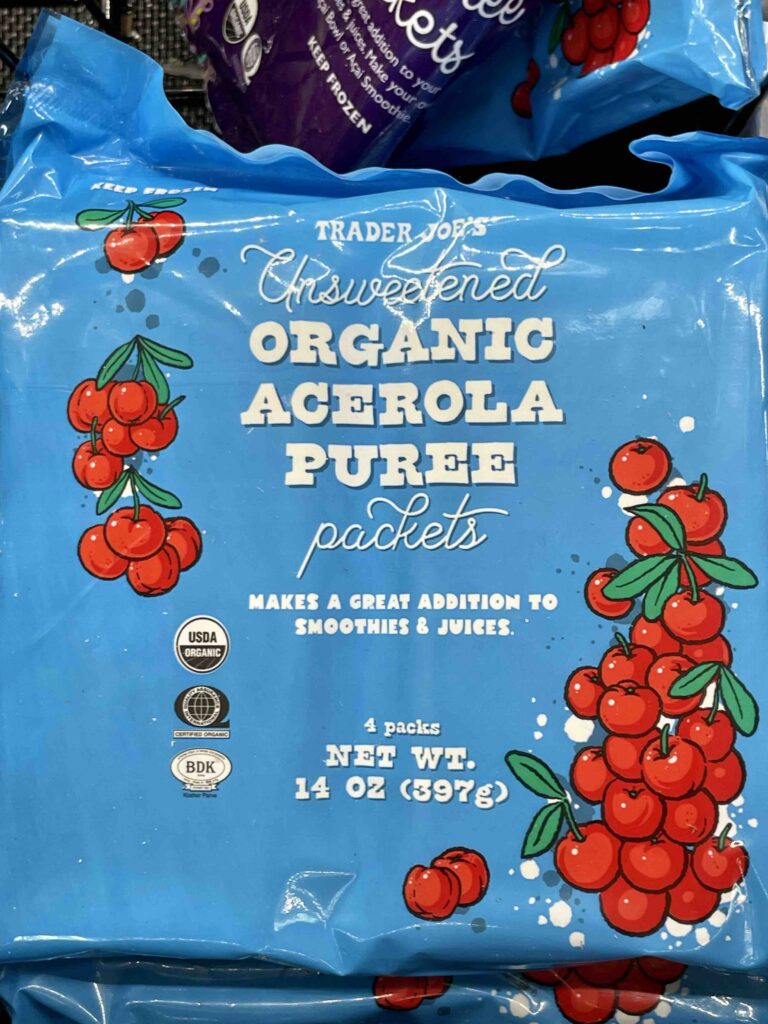 Trader Joe's Organic Acerola Puree Packets
What are acerolas? They are the cherry-like fruit of an evergreen shrub that grows mostly in the warmer parts of South America.
Not to be confused with cherries, they are not cherries at all, but a unique fruit that has lots and lots of vitamin C. These puree packs pack a powerful punch in that they are pureed and strained and are the perfect add to smoothies. You can also add it to a layer of chia pudding, or mix it into a bowl of oatmeal. Get 1180% of the daily recommended value of Vitamin C in one packet!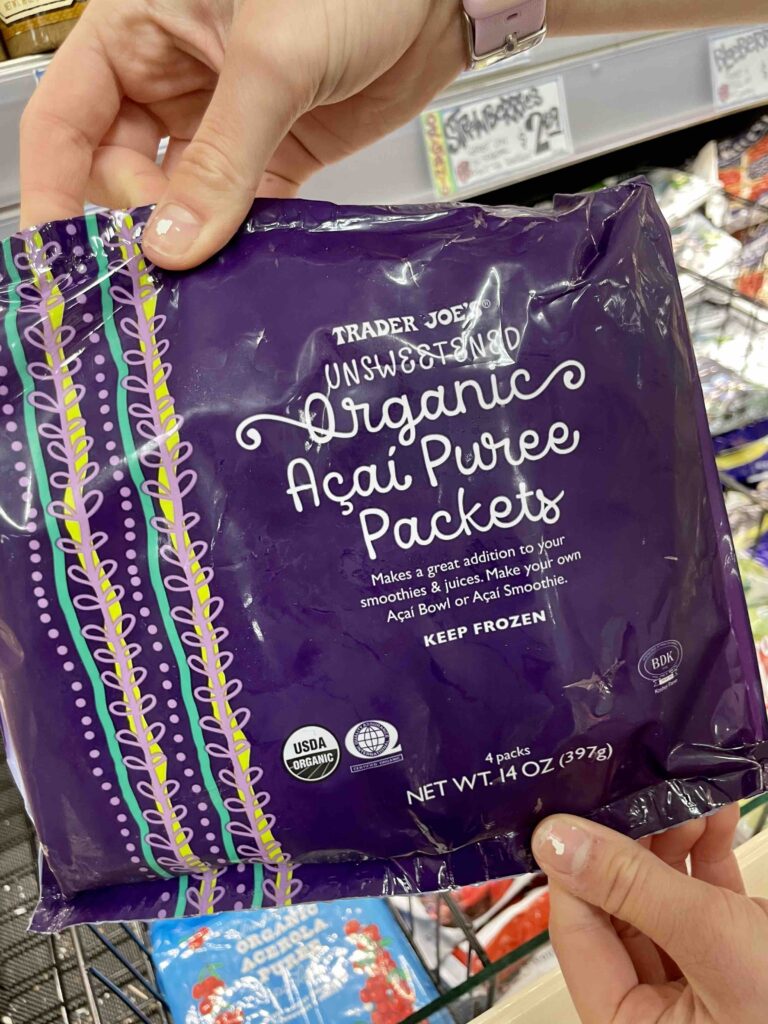 Trader Joe's Unsweetened Organic Acai Puree Packets
Another great one for smoothies, these packets of acai can add color, flavor and fiber to smoothies, smoothie bowls, oatmeal and chia pudding. The also boast 3 grams of fiber per packet, but at $4.49 for a pack of 4, you may want to use them cautiously. I love that these are organic and a great way to incorporate some solid colors in my kids repertoire of foods. With all of this said, this is an occasional but fun buy for us.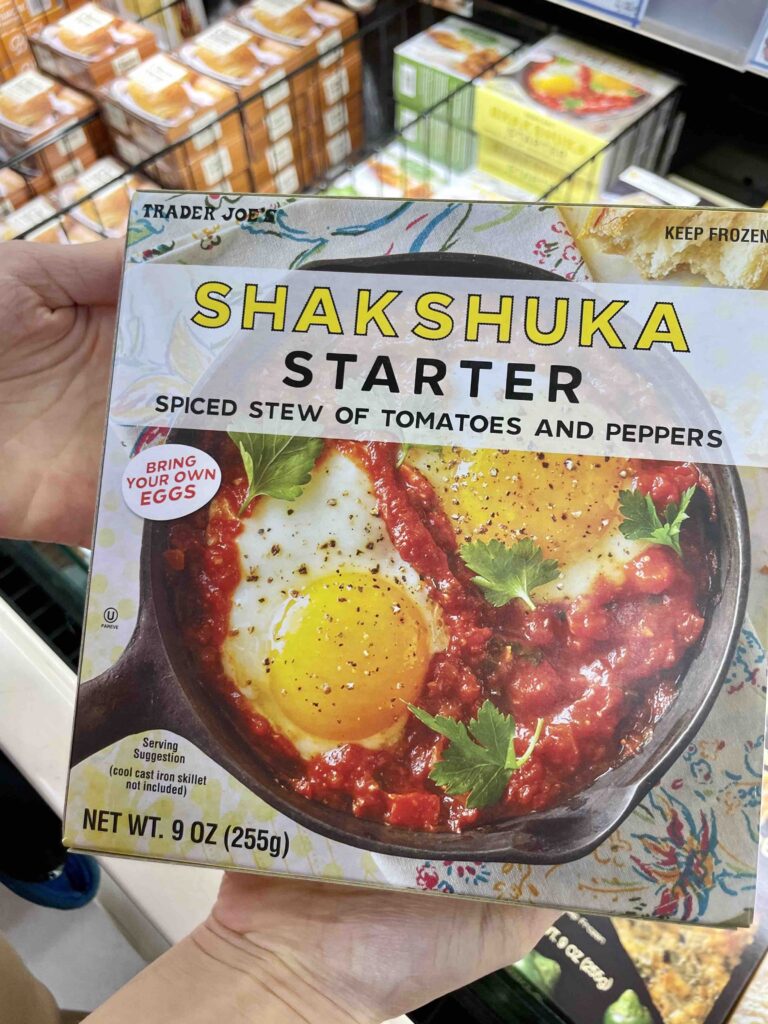 Trader Joe's Shakshuka Starter
I had my first taste of Shakshuka when I was (ironically) in Budapest 3 years ago. It's honestly an simple dish to make – tomatoes, peppers, onions, etc. stew for a bit and then you crack a couple of eggs on top and let them slightly cook. I love it, so when I saw this starter, I saw how it could make sense. Again, this is a product of convenience since the "real thing" doesn't take much to make. But we all know that life gets busy sometimes, and when that happens, this starts is waiting for you: just add eggs and a microwave!
Trader Joe's Gluten & Dairy Free Homestyle Pancakes
Though I typically make homemade pancakes, these are an occasional purchase since they can come in handy. On the plus side, they are convenient. And my kids love them. On the negative: there are 11 grams of added sugar in a serving. There are multiple ingredients including "natural flavors" which makes me scratch my head.
For other options when not in a pinch, try these Birch Blenders Paleo Pancakes or make your own with just 3 ingredients (recipe within).
Other Posts on Trader Joe's You May Like
10 Healthy Simple School Lunches from Trader Joe's
60 Healthy Trader Joe's Foods for Kids Lunchboxes
5 Simple Healthy Trader Joe's Meals
15 Best Trader Joe's Gluten Free Finds