Estimated reading time: 8 minutes
How much protein do kids need? What does protein do for kids? What can I put in my school lunch besides a sandwich? If you're looking for protein kids lunch box idea, you've come to the right place! Let's talk kids protein and leave you with some actionable foods you can use to make healthy school lunches.
50 Protein Kids Lunch Box Ideas
I've rounded up 50 Protein Kids Lunch Box Ideas—but before we get started, lets go over some of the basics. I tend to think that people worry more about their macronutrient (protein/fats/carbs) breakdown more than they should. But the reality is, when it comes to kids and all of the junk food that's available, perhaps it needs a second glance.
Let's talk protein for kids and also leave you with some easy options for getting protein in your child's lunchbox.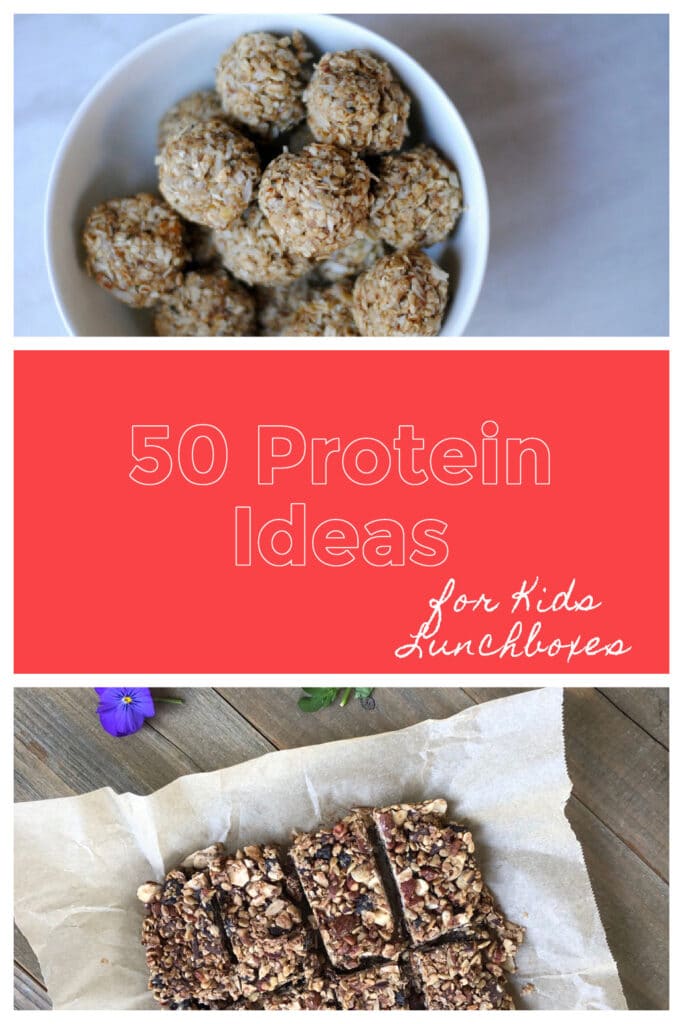 How much protein do kids need?
Protein is a building block for humans, and is responsible for building muscle, strengthening skin and bones, producing hormones and transporting nutrients. But there's such a focus on it these days, and many people worry—am I getting enough? When it comes to children, how much protein do kids actually need? According to the Food and Nutrition Board, 10-30 per cent of your daily calories should come from protein. But in younger years, it's actually broken down by age:
Ages 1-3: 13 grams of protein
Children 4-8: 19 grams of protein
Ages 9-13: 34 grams of protein
After age 14, there are different requirements for males and females
What does protein do for kids?
Protein is essential for all human beings. In the case of kids, it assists with bodily functions, including recovery and repair of tissues in the muscles, skin, organs, blood, hair and nails. It's a macronutrient that is vital for child growth and development—and obviously since kids are growing, it's a vital part of their diet.
Eating a diet that is balanced with protein, carbohydrates and fats is helpful in optimal performance—at school and in extracurricular activities. Problems can arise when children are picky, have food allergies or sensitivities, or when processed/packaged foods are chosen over nutritious, real food. But parents have enough on their plates (I feel ya!), so I hope this list of options takes some of the stress off.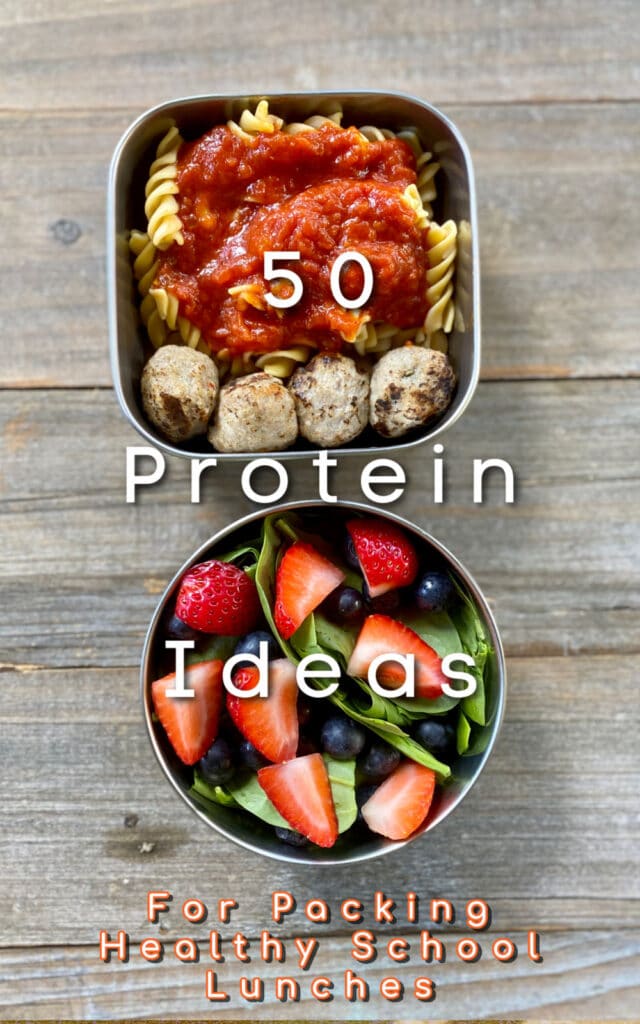 Easy Protein Recipes for Kids Lunchboxes
Sausage Balls—These paleo sausage balls are made without grains and therefore are gluten-free. They're an easy finger-food that can be added to the lunchbox quickly.
Kid-friendly Meatballs—Minimal ingredients and not a lot of spices make these an ideal option for a healthy lunchbox add-in. Don't forget a dipping sauce.
Mexican Chicken—Add this to the lunchbox with either some rice, tortillas or tortilla chips + some tomatoes, cheese and guacamole and you are set.
3 Ingredient Baked Chicken Tender Recipe (Grain-free)—Gluten-free and dairy-free baked chicken tenders, these are quick to make since there is no egg wash. And what kid doesn't love chicken tenders?!
Sloppy Joes—Not just for dinner, heat this up the morning of, and put it in a thermos. Send a bun, some greens and a fruit on the side-voila!
Protein Bars—If you've got the ability to make these ahead of time, they are clean and have minimal ingredients. I love knowing which protein powder I include, too.
Quinoa Patties—For a good plant-based protein, these little hand-held patties are perfectly sized and pack a powerful punch.
Baked Falafel—Another great option for a finger food (again—that dip!!) that's packed with plant-based protein.
Overnight Oats—While you may not think of this as a "protein" food, it boasts 10 grams of protein in the recipe. Check out this kid-favorite food!
Easy Pumpkin Overnight Oats—And on the heels of the last one, pumpkin flavored overnight oats. These have 7 grams of protein (and a good amount of fiber, too).
Granola and Milk—Unconventional lunch? Maybe! Will kids like it? Probably! Send granola and milk (dairy or non-dairy) in separate containers, and let them dig in in school.
Seed Energy Bars—Plant-powered, but topped with chocolate, this is perfect for those who are at a nut-free school.
Easy Energy Balls—Minimal ingredients make up these tasty bite-sized balls, which are perfect for the lunchbox.
Easy Homemade Chewy Granola Bars—Why buy a packaged version when a homemade one is so easy to make? Kids love these homemade granola bars.
Paleo Sweet Potato Muffins—A healthy chocolate muffin made with no refined sweeteners, this is a yummy healthy treat with 5 grams of protein.
Gluten Free Gingerbread Muffins—Not just seasonal, these yummy paleo gingerbread muffins offer 7 grams of protein and are made with almond flour.
Hard Boiled Eggs—If they don't like them hard boiled, try making deviled eggs. Some kids prefer them this way.
Homemade Trail Mix—Make your own concoction of seeds, nuts, dried fruit and maybe some chocolate chips for a fun snacky addition.
Soups with Protein for Kids Lunches
Packaged products with protein for kids lunches
Raw Crunch Bars—A personal favorite, these bars are made by a friend of mine but also happen to be one of the cleanest on the market. Dehydrated (meaning all raw and bioavailable ingredients) make up these healthy, protein-packed bars. No powders or artificial ingredients.
RX Bar—Packed with protein from egg whites and nuts, these even come in kid sizes, which are perfect for smaller appetites, too!
GoMacro Bars—Another tasty bar, these come in over 10 varieties, have kid sizes, and pack a powerful protein punch with 11 grams per bar.
Beef Jerky—Choose organic beef jerky if possible
Turkey Jerky—Just another variation. Trader Joe's sells a pack of this.
Chicken Mini Sticks—Little chicken sticks – just as the name suggests! Super cute and tasty.
Salami Mini Snacks—Another cute one for the meat lovers.
Cheese Stick—Oldie but goodie.
Greek Yogurt—With more protein than the traditional, this is an easy addition for busy nights/mornings when you are packing.
Regular Yogurt—Add some granola to go into this for a more filling part of the meal.
Dairy-free Yogurt—Choose from coconut, almond or other dairy-free yogurts. Check protein and sugar quantities on label.
Squeeze Yogurt—For a variety; kids seem to think these are fun and these ones have just 14 grams of sugar.
Almond Butter—Send one of these little almond butter packs along with an apple, banana or celery for a balanced, healthy part of their meal.
Peanut Butter—For those who prefer peanut butter, these are a great option, too!
Bada Bean Bada Boom—A newer option, choose from Cocoa Dusted or Sweet Cinnamon fava beans, each with 7 grams of protein and 5 grams of fiber per bag. Definitely worth trying!
Roasted Garbanzo Beans—Make your own, or find them in stores.
Allergy-friendly Seed Mix—Free of all of the major allergens, this is a tasty mix of seeds and dried fruit.
Dry Roasted Edamame—Crunchy and salty and packed with protein.
Coconut Clusters—A bunch of nutritious seeds are paired with coconut and a little sweetener in this fun snack.
Sunflower Seeds—If your kids aren't fond of these alone, mix them with raisins for a sweet/salty mix.
Pistachios—With 5.97 grams of protein per ounce, these are a salty, solid option.
Pecans—An easy throw-in for a healthy school lunch.
Cashews—Another nut option for the lunchboxes if you don't need to be nut-free.
Sandwich Meat—I suggest Applegate Organics if feasible.
Cheese Slices—My kids who are not dairy-free love these with crackers! Opt for organic.
Vegetables with Protein
Don't forget—lots of vegetables also boast a good amount of protein! Here are a few to choose from:
Brussels Sprouts—These yummy green veggies boast 5.64 grams of protein per cup.
Broccoli—Another green favorite, get 4.28 grams per stalk. Try this yummy broccoli salad.
Potatoes—Though it often gets a bad rap, potatoes offer 4.55 grams of protein in one spud. Not too shabby!
Sweet Corn—With 4.68 grams of protein in an ear, this is another easy option to send.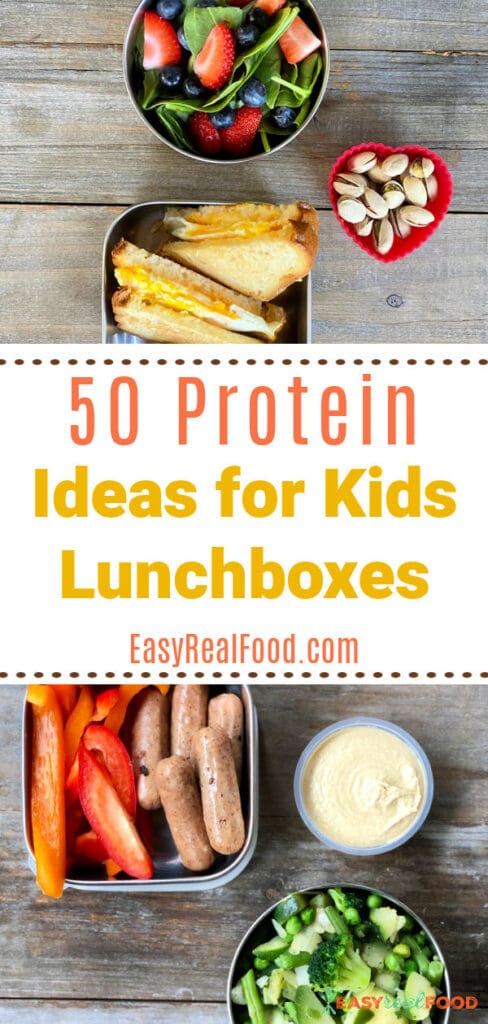 Pack a healthy school lunch
So there you have it! 50 Protein Ideas for Kids for Healthy School Lunches. I hope that these ideas can come in handy the next time you are at a point of questioning what you can back in their lunchbox. For other ideas, make sure to read the following:
How to Plan Healthy School Lunches
10 Healthy Simple School Lunches from Trader Joe's
60 Healthy Trader Joe's Foods for Kids Lunchboxes
5 Healthy Lunches You Can Make in 5 Minutes (each)
Enjoy!